Barrister resigns from CPS sex case panel after court comments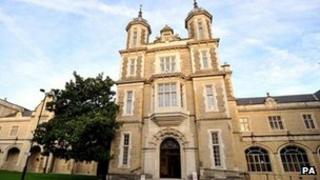 A barrister who described a 13-year-old victim of sex abuse as "predatory" in court has agreed to resign from the Crown Prosecution Service's rape panel of advocates, the CPS says.
Robert Colover will no longer prosecute in cases involving serious sexual offences or child sexual abuse.
He was widely criticised after remarks during the trial of Neil Wilson, 41, at Snaresbrook Crown Court in August.
Mr Colover also described the victim as "sexually experienced".
Wilson admitted abusing the girl at his home in Romford, London, and was given a suspended 12-month jail term.
The judge, Nigel Peters, said that when deciding Wilson's punishment he had taken into account the prosecution's comments that the girl looked and behaved as if she were older than she was.
His sentence has been referred by Attorney General Dominic Grieve to the Court of Appeal, where three judges will decide whether or not it is unduly lenient and whether they should increase it.
The CPS said that after a review of the case, Director of Public Prosecutions (DPP), Keir Starmer, had found the language used to describe the teenager was "grossly inappropriate".
A CPS spokesman said the DPP found there was nothing in the instructions given to counsel - including information from the police, the prosecution papers or the pre-sentence report - that could have "expressly or implicitly supported describing the victim's behaviour in such terms".
He said: "Counsel in the case agreed that he should not have used the expression that he did and deeply regretted his choice of words.
"It was agreed that he would resign from the CPS Rape Panel of advocates and will no longer undertake prosecutions involving serious sexual offences or child sexual abuse."
The barrister will remain on the CPS' general advocate panel and will still be instructed in other criminal cases, he added.