Eurostar bids for East Coast Main Line franchise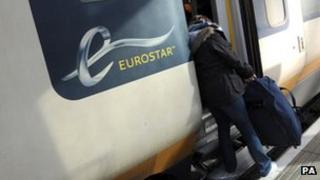 Eurostar is bidding to run a newly-privatised East Coast Main Line.
The firm which runs high-speed trains through the Channel Tunnel is to launch a joint bid with French company Keolis to work the London to Scotland route.
It has been run by the government since 2009, when National Express handed back the franchise mid-term.
Labour and trades unions have opposed returning the line to private control, arguing that it provides value for taxpayers.
Eurostar would take a minority share in the Keolis-Eurostar consortium.
Keolis, which is majority-owned by French rail company SNCF, already has a share in four UK franchises - Southern, Southeastern, London Midland and TransPennine Express, which it operates through joint ventures with British companies.
'Force for good'
Its UK chief executive Alistair Gordon said: "I believe that our ability to draw upon an international track record of delivering complex long-distance services, coupled with Eurostar's reputation for customer excellence, is a unique proposition."
Eurostar chief executive Nicolas Petrovic said: "The East Coast franchise is a vital economic artery and a key route for both business and leisure passengers which represents an exciting opportunity for future growth and investment."
The successful bidder is expected to be announced in October 2014, with the service running from February 2015.
Announcing the tendering process in March, Transport Secretary Patrick McLoughlin said franchising was a "force for good in the story of Britain's railways".
The line runs from London to Edinburgh via stations including Peterborough, York, Newcastle and Berwick-upon-Tweed, with a major branch to Leeds. A few trains continue from Edinburgh to Glasgow, Aberdeen and Inverness.
The Department for Transport said it expects to issue an invitation to tender in February 2014, after which bidding can formally begin.