Advocacy standards scheme for criminal trials starts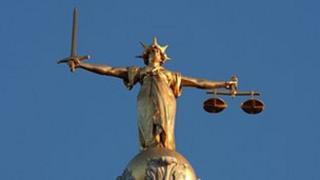 A new scheme has come into force to ensure advocates in criminal trials meet a standard of competence.
All lawyers in England and Wales - barristers, solicitors or legal executives acting for the prosecution or defence - will be regulated.
The initiative - known as QASA - aims to address concerns about the quality of advocacy in the criminal courts.
But many lawyers are against it and the Criminal Bar Association is challenging it through a judicial review.
Lawyers will be required to seek accreditation at one of four levels which will determine the complexity of cases they are allowed to handle.
They will range from those working in magistrates' courts to those undertaking the most serious cases in the crown courts.
It will be a breach of the regulators' rules to conduct criminal advocacy without QASA accreditation.
Report concerns
Judges will carry out the bulk of the assessment and will fill in forms after a trial marking the performance of the advocates involved.
Once a lawyer has been assessed in two consecutive trials their forms will be submitted to the QASA regulator who will then decide whether to award accreditation.
Even once a lawyer is accredited, judges will be encouraged to submit evaluation forms if they have any concerns about their quality.
An independent assessor may then be sent out to evaluate that advocate and could demote them to a lower level.
The scheme has been devised by the three main bodies regulating the legal profession - the Bar Standards Board, the Solicitors Regulation Authority and ILEX (Institute of Legal Executives) Professional Standards.
Bar Standards Board head of quality Oliver Hanmer said: "QASA exists to protect the public from those advocates who are not as good as they should be.
"It ensures that barristers can demonstrate - twice in two years - that they are competent to do their job.
"The majority of barristers will complete the process without any difficulty, but it's right we act to stop those who fall short."
The scheme has been developed in response to concerns about standards, highlighted in a report by Lord Carter in 2006.
Find fault
It is initially being introduced for barristers on two of the six legal circuits, Midlands and Western, who have been given six months to register.
But it is facing significant opposition from the profession.
The Criminal Bar Association - which represents barristers in England and Wales - says its concerns about QASA have fallen on "deaf ears" and therefore it has decided to challenge the legality of the scheme via a judicial review.
It is concerned that some lawyers will be allowed to advise and represent defendants who plead guilty to serious offences when they have never conducted such a trial.
That is because advocates who do not take part in trials will be able to seek accreditation at an assessment centre rather than via a judge.
Also they say a defendant may not know a judge is assessing their barrister, or has previously assessed the barrister, and found fault.
Earlier this month, Justice Secretary Chris Grayling announced an independent review of advocacy in criminal cases that will report in six months time.