Michael Gove acts to block 'damaging' early GCSE entry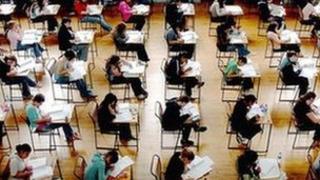 Michael Gove is changing league table rules in England to try to stop schools from "gaming the system".
The education secretary says schools encourage pupils to take GCSEs early so they can "bank" good grades - simply entering them for retakes if they fail.
Under the changes, only the first attempt will be counted in future league tables.
Mr Gove said early exam entry damaged pupils. Head teachers said the plan was "grossly unfair" to schools and pupils.
They raised concerns that schools will be under intense pressure to change their exam entry plans when courses are already under way.
In the league tables, schools are measured on how many pupils score between an A* and a C in certain subjects, with maths and English being especially important.
Mr Gove has said before that the practice of entering pupils for exams early can damage their education.
'Gaming the system'
He said that evidence shows that those who do exams early generally perform worse than those who do not, even after they have retaken them.
He has said it also suggests some schools are following a "narrowed curriculum", focused on exam preparation rather than "sound subject teaching".
The government says some schools put pupils in early for exams to "game" the league table system.
A spokeswoman for the Department for Education said: "Some schools, having 'banked' a C grade in maths a year early, then enter pupils for other exams to game the league table system, instead of continuing with maths to 16.
"This is bad for the pupils and is another strong reason to make the change we are announcing."
She added: "Changing the system so that results in first exams count will ensure there is no benefit to schools who simply want to put children in for GCSEs before they are ready."
The government believes the practice of early entry also puts pupils off taking maths at A-level.
This year, GCSE exam entries from younger pupils rose markedly, especially in English and maths.
Those from 15-year-olds were up nearly 40% compared with last year, according to exam boards.
Normally, schools enter pupils for GCSEs in Year 11 - the academic year in which they turn 16 - after two years of GCSE studies.
But some schools enter bright pupils for some subjects a year early, while others have a policy of doing this for all pupils.
They have previously had the option of putting them in for the exams again six months or a year later if they do not perform well enough.
But now, only the first attempt will be counted for the league tables.
As well as being highly valued in the league tables, maths and English are crucial subjects for pupils wanting to move on in to A-levels, other further study or work, so good passes are vital all round.
'Constant tinkering'
At the moment, only about six in 10 pupils get five GCSE passes at A* to C, including maths and English.
The government says the changes take "immediate effect" for subjects in the English Baccalaureate league table measure (English, maths, modern languages, history, geography and the sciences) and will affect results for these recorded in the secondary school league tables of January 2015.
For other subjects, the changes will be felt in the league tables a year later, in 2016.
Brian Lightman, the general secretary of the Association of School and College Leaders, said the change would pile "pressure and stress" on to students.
He said: "We have repeatedly warned about the damaging effects of piecemeal changes to the qualifications system. It is grossly unfair to make changes like this when courses are already under way.
"This is adding pressure and stress to students in the most important year of their education.
"Whatever the rights and wrongs of early entry, students, teachers, parents and employers just do not know where they are in the context of constant tinkering with examinations."
Labour's shadow education secretary, Stephen Twigg said: "If schools are using multiple entries to game the system, putting league tables ahead of learning outcomes, then this is damaging to education standards.
"Labour fired the starting pistol to reform and reduce perverse incentives that put school standards at risk.
"Michael Gove is late to the party with his support for reform".