Margaret Thatcher's ashes interred at Royal Hospital Chelsea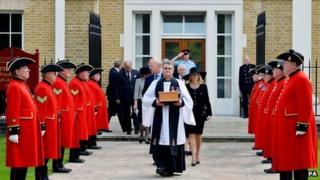 Baroness Thatcher's ashes have been interred in the grounds of the Royal Hospital Chelsea at a service attended by her family and close friends.
The former prime minister's children, Sir Mark and Carol Thatcher, were among those at the central London site.
Prayers were said before a solid oak casket containing her ashes was placed in the ground.
Lady Thatcher's ashes were placed next to those of her husband, Sir Denis.
A private service was held at All Saints Chapel in the hospital's Margaret Thatcher Infirmary, which she opened in 2009.
Music was provided by the chapel choir who sang Po Atarau, a traditional Maori song of goodbye in recognition of Lady Thatcher's family connections with New Zealand.
Lady Thatcher - the longest-serving prime minister of the 20th Century - built up a strong relationship with the Royal Hospital Chelsea during the last years of her life.
She and her husband often spent Sundays together in the grounds of the retirement home for British soldiers and Sir Denis's ashes were buried there after his death in 2003.
Fourteen Chelsea Pensioners dressed in their distinctive scarlet coats formed a guard of honour as her ashes were carried from the chapel.
Prayers were said by hospital chaplain the Reverend Richard Whittington as her family members comforted one another.
Carol Thatcher stood with Cynthia Crawford, who was Lady Thatcher's personal assistant for more than 30 years.
Among the small group of mourners were Lady Thatcher's former private secretary, Lord Powell, and Lord Bell, her former political adviser.
Sir Mark, his wife Sarah and sister Carol took it in turns to each place a single red rose alongside the casket.
A headstone bearing the inscription "Margaret Thatcher 1925 - 2013" is being erected on top of her final resting place.
Lady Thatcher's family met the costs of the interment.
The country's first female prime minister died aged 87 on April 8, following a stroke.
The Queen led mourners at her funeral in St Paul's Cathedral on April 17, which was attended by more than 2,000 guests from around the world.
Lady Thatcher, who was prime minister from 1979 until 1990, was accorded a ceremonial funeral with military honours, one step down from a state funeral.