Royal Mint coins to mark Prince George christening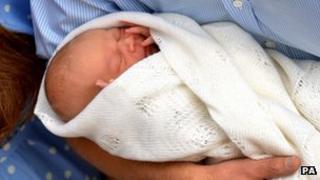 The Royal Mint is to create a set of commemorative coins to mark the christening of Prince George.
The production of three commemorative coins will be the first time that new coins mark the christening of a member of the Royal Family.
The Duke and Duchess of Cambridge's son, who was born on 22 July, will be christened on Wednesday, 23 October at the Chapel Royal, St James's Palace.
The prices and how many will be minted have yet to be announced.
The Duke and Duchess, the Queen and the chancellor have approved the release.
The collection includes a gold 5oz coin costing £8,200, a kilo coin in silver at a cost of £2,600 and a more affordable £5 "uncirculated" coin £13.
Shane Bissett, of The Royal Mint, said they had celebrated moments of national significance for more than 1,000 years and felt it was appropriate to produce the first set of royal christening coins to mark the baptism of a future king.
He added: "As a British institution, The Royal Mint has played a central role creating works of art as official commemorations of landmarks in the history of the Royal Family for hundreds of years.
"These coins will be a fitting addition to that long tradition.
Replica gown
The Archbishop of Canterbury, the Most Reverend Justin Welby, will perform the christening with "close members of both families" set to attend, Kensington Palace said.
The prince, who was born at St Mary's Hospital in London, is third in line to the throne and has already had coins minted in his honour after the Royal Mint gave away 2,013 silver pennies to babies born on the same day as the Duke and Duchess' son.
Christenings are usually held at Buckingham Palace or at places of worship at Windsor Castle with Princess Beatrice, in December 1988, the last royal baby to be christened at St James's Palace.
Prince George will be dressed in a same replica of the christening gown made for Queen Victoria's eldest daughter, Victoria, the Princess Royal, in 1841.
The Earl and Countess of Wessex's son Viscount Severn became the first royal baby to wear the new robe at his christening in 2008.