Canadian woman's fight to stay in Britain after domestic abuse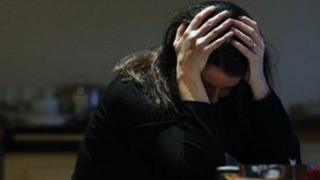 A Canadian woman who was attacked by her former partner is involved in an on-going legal battle to stay in Britain. Her case is said to be far from unique.
"Christine", 31, has been told she has to leave the country - where she has lived for almost six years - because rules allowing foreign domestic violence victims to stay in Britain do not apply to her.
This is because they were not married and her partner was not British.
The Home Office said domestic violence was "terrible" and that no-one should have to stay in an abusive relationship.
The woman, whose real name cannot be used for legal reasons, described the law as "quite inconsistent" and said it had a "serious lacuna" - a part missing.
"It's unfair to force me to drop my university degree and the life that I've established here simply because I've been the victim of violence by somebody I came here to make a life with," she told BBC News.
'Degrading and humiliating'
Christine began living in Britain on a working holiday-maker's visa in January 2008, before being granted a European Economic Area (EEA) residence card.
She was given the EEA card as the unmarried partner of an EU national - a man from Germany with whom she was in a long-term relationship.
But the couple broke up in December 2010 after Christine suffered a prolonged attack at the flat they shared in London.
She said he "stomped" on her foot, knocked her to the ground, repeatedly kicked her and hit her in the face. Christine was diagnosed with post-traumatic stress disorder as a result.
"The physical injuries were quite severe and lasted for quite some time - indeed I still have quite a prominent mark on my foot from where I was stomped on," she said.
"But it was the degrading and humiliating aspects of it that sort of stayed with me - the mocking me while I was crying, and pouring water over me... being treated like I was sub-human that had a longer impact."
'Equal treatment'
After a lengthy legal battle to get the Crown Prosecution Service to bring proceedings, Christine's former partner, an architect, pleaded guilty in August 2013 to assault occasioning actual bodily harm.
The man, who has since moved back to Germany, was given a 12-month suspended prison sentence and ordered to pay compensation and costs.
Christine had hoped that by the end of the criminal case her immigration status would have been settled, allowing her to continue her university course, which she was funding herself.
Under EEA regulations and UK immigration rules, special provision is made for foreign nationals from non-European states whose relationship breaks down due to domestic violence.
The rules allow them to stay in Britain, but apply only to partners or spouses of a British person or resident; and to those who were married to, or in a civil partnership with, someone from the EEA.
The problem for Christine was that she did not come into either category. Her partner was not British and they had not been married, so the Home Office said she could not stay.
In June 2012, she was given hope when an immigration judge ruled that the Home Office decision breached the EU law principle of "equal treatment" and violated her right to a private life, under Article 8 of the Human Rights Act. The judge asked the Home Office to review its decision.
The department refused to budge - although it accepted that Christine had been a victim of domestic violence. An attempt to take the case to the Court of Appeal also failed.
'Third-country national'
Experts have said Christine is not the only one to have been caught in this apparent legal loophole. One charity that advises people on their rights under European law is said to have been receiving several calls a month.
Alison Harvey, legal director of the Immigration Law Practitioners Association, said the problem was people in Christine's position derived their rights from their abusive partner.
"When the relationship breaks down they cease to derive any rights," she said. "They're simply a third-country national with no leave [to remain]."
Ms Harvey said the rules conflicted with the government's drive to support victims of domestic violence.
"It's one of those situations that provides an incentive to stay with the abusive partner," she said.
"It's not the only incentive in our immigration law... this is one example of its imperfections."
The Home Office said domestic violence was a "terrible form of abuse".
In a statement, it said: "Any partner of a British citizen or someone settled here, who has had to leave that relationship because of domestic violence, can apply for indefinite leave to remain regardless of the time they have spent in the country.
"However, under EU law there is not a similar provision for those who are in a relationship with an EEA national but not married or in a civil partnership."
In 2014, Christine's case will go before an immigration judge in a last-ditch attempt to avoid having to leave Britain.
The last few years have taken their toll on her mentally, emotionally and financially - it has cost her "tens of thousands of pounds" because she does not receive legal aid.
"I cannot imagine if I was in a position where I'd had to leave my home and be living in a shelter and had children to take care of how I ever would have dealt with any of the things I've been confronted with," she said.
"It's really important to raise awareness of some of the failures in the system for women in my position."