Centenarians increase five-fold over 30 years, ONS says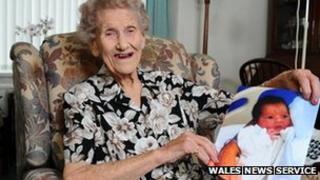 The number of centenarians in England and Wales has increased five-fold over the last 30 years, according to the Office for National Statistics (ONS).
Its estimates suggest there were 12,320 people aged 100 or older in 2012, with more than 600 of these aged over 105.
The newly published figures also suggest the population of over-90s - a group the ONS calls the "very old" - increased by 33% from 2002 to 2012.
Last year they numbered 465,000, almost 1% of the population, the ONS said.
According to the ONS estimates, there were 2.6 women for every man aged over 90, and 5.9 women for every man over 100.
The proportion of older men has increased in recent years. In 2002 there were 3.3 women for every man aged over 90, and eight women for every man over 100.
'Cause for celebration'
Figures on the over-90 population have been produced consistently since 1981.
The ONS estimates there were 157,390 over-90s in that year, and 350,700 in 2002. These numbers included 2,420 centenarians in 1981, and 7,090 in 2002.
Age UK director Caroline Abrahams said the new figures were a "real cause for celebration".
She said the over-85 age group was the fastest-growing part of the population and warned that "we all need to adapt to our rapidly ageing society".
"There is no excuse for not planning ahead to ensure that health, care, pensions, housing and other services are able to meet the needs of an ageing population," she added.
"This is not just about government action. Individually and collectively we need to help people make the most of a longer later life."
The latest statistics also include figures from other countries which produced comparable data for 2012.
Country comparison
According to the ONS, 823 out of every 100,000 - one in 121 - people in England and Wales were aged at least 90.
Japan had the highest proportion, with 1,197 per 100,000, while India was the lowest on the list on 58 - meaning one in every 1,700 people in the country was 90 or over.
Sweden, France and Italy had a higher proportion of over-90s than England and Wales, while Norway, Australia and the US were among those lower on the list.
Professor Sarah Harper, from the Oxford Institute of Ageing, said western societies had "consistently pushed death back" in the last 200 years by improvements including clean water, better nutrition and antibiotics.
With more people living into "early old age", she said geriatric medicine had improved in recent years and focussed on the chronic diseases which often affect older people.
And she said better general health and the use of preventative medicine were also important factors.
"Many older people are now on a range of drugs for conditions like high cholesterol or blood pressure," she said.
Professor Harper said she expected the number of people reaching very old age to continue rising, but said the "big question" is whether there is a "limit to this".
She said the oldest verified age a person has lived to was 122 and, though experts were divided, many believed 120 was the approximate natural limit of human life.
Royal messages
ONS estimates are produced by using "age-at-death" data. By analysing the ages and locations of people at death, statisticians estimate the number of people alive at a certain age in a certain area.
Figures for Northern Ireland, published in June, do not show centenarians but the Northern Ireland Statistics and Research Agency estimated there were 11,000 over-90s in 2012 out of a total population of 1,823,600.
Estimated figures for Scotland will be published on 1 October.
The rising number of centenarians means the Queen will have to spend longer writing birthday cards.
At present she sends a personal message to anyone in the UK who reaches their 100th birthday, another card on the 105th birthday and one every year after that.