Repatriation ceremonies for fallen personnel will not be changed, says MoD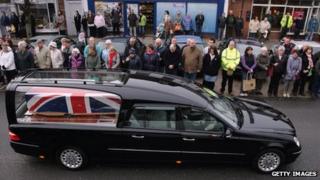 The Ministry of Defence has said it has "no plans" to downplay repatriation ceremonies for fallen personnel, after a claim that it was considering ways to make war more palatable to the public.
The idea to "reduce the profile" of such military services was proposed by an MoD think tank as a possible way to handle "casualty averse" opinion.
The paper was obtained by the Guardian under the Freedom of Information Act.
But the MoD said it was not meant to outline government policy.
In the four years up to 2011, the town of Wootton Bassett in Wiltshire gained fame for repatriations, as the bodies of 345 military personnel killed in conflicts were brought back to the RAF base at Lyneham and driven through its streets - which were lined by thousands of mourners.
The last cortege passed through the town in August, after which RAF Brize Norton in Oxfordshire became the landing site for planes returning from conflict zones.
'Information campaign'
The discussion paper from November 2012 - drawn up by the MoD's Development, Concepts and Doctrine Centre (DCDC) think tank - considers how people's attitudes can be targeted.
It says: "Public reaction to casualties can be influenced and... is heavily dependent upon the perceived context.
It "is likely to remain casualty averse and unsupportive of military actions" unless people are convinced of the need for conflict.
The document goes on to recommend "the armed forces should have a clear and constant information campaign in order to influence the major areas of press and public opinion".
Among other points, it says that "to support such a campaign the MoD should take positive steps to… reduce the profile of the repatriation ceremonies".
It also says any "campaign narrative" should be "clearly explained to the public as early and as often as possible".
Joe Glenton, an anti-war campaigner and former soldier who was jailed in a military prison for several months after refusing to return to Afghanistan, told the Guardian a change in repatriation ceremonies had already been going on for several years.
"We should recall [the MoD] switched the route of repatriations from the very high profile Wootton Bassett and started again bringing bodies through RAF Brize Norton. In short, hiding the bodies," he said.
"The public rightly is averse to young soldiers being maimed or wounded, and averse to dusty foreign adventures."
However, an MoD spokesman said: "It is entirely right that we publicly honour those who have made the ultimate sacrifice and there are no plans to change the way in which repatriation ceremonies are conducted.
"A key purpose of the Development, Concepts and Doctrine Centre is to produce research which tests and challenges established doctrine and its papers are designed to stimulate internal debate, not outline government policy or positions."
It added: "To represent this paper as policy or a potential shift of policy is misleading."