Fraud office to examine Serco tagging contracts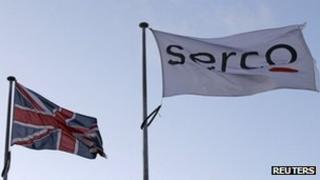 The government has handed information on security firm Serco to the Serious Fraud Office (SFO) following recent disclosures on overcharging.
Two months ago, the Ministry of Justice said G4S and Serco had overcharged the government by "tens of millions" for electronic tags for criminals.
At that time Justice Secretary Chris Grayling asked the SFO to consider a criminal case against G4S, and a file on Serco has now been presented.
Serco said it was "co-operating fully".
Mr Grayling said that since 2005 the companies had been charging for tagging some offenders who were in prison, had left the country or were even dead.
G4S did not to co-operate with an audit and was referred to the SFO.
Contracts under review
The Ministry of Justice said Serco allowed an "independent forensic audit", and information from that has now been passed to the SFO.
"The SFO will consider whether an investigation is required into either or both suppliers," the ministry said in a statement.
"As in any other case the decision as to whether an investigation is launched rests with the SFO."
An independent audit of all Ministry of Justice contracts with G4S and Serco is under way, and a wider review of all government contracts with the two firms is also being conducted.
A Ministry of Justice spokeswoman said no new contracts would be awarded to either firm until its audit was complete.
Serco said it "continues to believe that it has billed in accordance with the contract" with the Ministry of Justice, and would "repay any amount agreed to be due".
Chief executive Christopher Hyman added: "We are fully co-operating with the Ministry of Justice and remain committed to doing the right thing to resolve their concerns."
In July, G4S's chairman John Connolly told the BBC he felt the SFO had the appropriate powers to investigate alleged wrongdoing so the company requested that rather than an independent audit.