Nairobi attack: British death toll lower than thought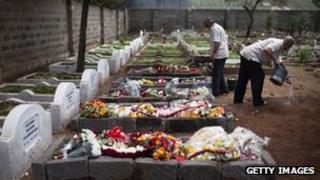 The number of UK nationals killed in the Kenyan shopping centre attack is lower than previously thought, the Foreign Office has said.
It had been reported that six Britons were among 67 people killed when militants stormed the mall on Saturday.
But one of the dead thought to be British was a Kenyan national, the FCO said, warning that the toll could rise.
"We cannot rule out the potential for further British casualties," a spokeswoman said.
Somali Islamist group al-Shabab has said it carried out the four-day siege of Nairobi's Westgate shopping complex in retaliation for Kenyan army operations in Somalia.
'Investigations continue'
Forensics teams from Kenya and abroad are searching the mall amid fears more bodies could be found.
The country's Red Cross has said 61 people remain unaccounted for.
Among the victims already named were British-Australian architect Ross Langdon and his pregnant partner, Elif Yavuz, a Dutch citizen.
Louis Bawa, from Leamington Spa, said his Kenyan-born wife, Zahira, and eight-year-old daughter Jennah were killed in the attack.
British citizen Niall Saville was wounded in the attack, and his wife Kang Moon-hee, from South Korea, was killed.
"We can now confirm that on present information five British nationals have been killed in the recent terror attacks in Nairobi," a Foreign Office statement said.
"One individual previously thought to be British is a Kenyan national. Our thoughts are with his family and with the friends and family of all of those who have died during this difficult time.
"We have no information at this time that any further British nationals have been killed although we cannot rule out the potential for further British casualties and we continue to stay in close contact with the Kenyan authorities as their investigations continue."
Meanwhile in Nairobi, Kenyan investigators have been joined by experts from the US, UK, Germany, Canada and Interpol to comb the sprawling shopping complex for DNA, fingerprints and ballistic clues.
The BBC's Bashkas Jugsodaay says that in Uhuru Park, in central Nairobi, many organisations have set up tents for counselling and taking blood donations, including the Red Cross which has a centre for those looking for missing relatives.