Lord Justice Leveson promoted to third top judge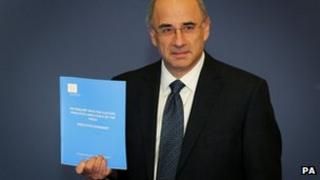 Lord Justice Leveson, the man behind the report into the future of press regulation, has been made the third most senior judge in England and Wales.
The judge will become the head of the Queen's Bench Division in October.
The promotion means he will oversee a large branch of the judiciary, including claims brought against government ministers.
Lord Justice Leveson succeeds Sir John Thomas, who has become the Lord Chief Justice of England and Wales.
The Queen's Bench Division (QBD) is one of the three branches of the High Court and its president oversees a great deal of civil legal work and some criminal matters.
The division includes the Administrative Court and judicial reviews which test the fairness and legality of decisions taken by ministers or other public bodies. The QBD courts also deal with personal injury, negligence, contract law and defamation.
The 64-year-old judge began his legal career as a barrister based in Liverpool and became a High Court judge in 2000. Nine years later he became chairman of the Sentencing Council, the body that creates the guidelines that judges follow when deciding how long to jail offenders.
In July 2011, Prime Minister David Cameron appointed Lord Justice Leveson to lead a public inquiry into the culture, practices and ethics of the press. His report, published in November 2012, proposed a new form of press regulation which has pitted Parliament against the newspaper industry.