Al-Sweady inquiry: Ex-soldier retracts Iraqi abuse claims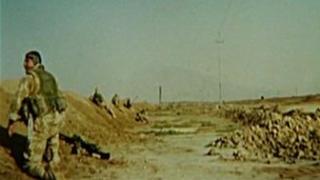 A former soldier has retracted claims made in a TV interview that he saw British troops abuse a prisoner after a gun battle in 2004 in southern Iraq.
Former L/Cpl Mark Keegan told the Al-Sweady inquiry that he had exaggerated some of his account made to BBC's Panorama programme three years later.
He said he now could not remember much of what had happened.
The inquiry is examining claims, denied by the Ministry of Defence, that troops mistreated and killed Iraqi detainees.
It seeks to identify the events surrounding the deaths of more than 20 Iraqi men and is concerned with the Battle of Danny Boy during the Iraq war. It was named after a British checkpoint near the town of Majar al-Kabir in southern Iraq.
Lawyers acting for several Iraqi clients claim some were taken alive and mistreated or unlawfully killed at a nearby military base, Camp Abu Naji.
'Exaggerated story'
Mr Keegan, who has since left the Army, said he could not remember much that had happened after he was injured by shrapnel during the battle.
However in 2007, he alleged in the BBC programme that after the battle, he had seen British soldiers hit an Iraqi detainee with a rifle butt.
He also described a young Iraqi who was hooded with a sandbag being ducked in a ditch with his hands bound behind his back.
But at the inquiry, Mr Keegan said he did not recall this actually happening, and said he had exaggerated his story for Panorama to make it sound more interesting.
He said he then felt he needed to repeat the same allegations to the military's Special Investigations Branch.
"I was still in extreme pain and matters are somewhat hazy," he said in a witness statement.
"It is also a long time ago and my recollections are a bit confused on this episode.
"The result is that I am now confused about what I did see and what I may have exaggerated about the detail."
His statement went on to say: "It needs to be borne in mind that at this point I was in dreadful pain, was soaking wet with sweat and blood, and was desperate for some water but there wasn't any."
Referring to his earlier claim that a soldier had thrown a stone, he said: "I honestly cannot now say what the truth is of whether a stone was thrown. What I do believe is that the detainee was not pushed over into water and nearly drowned, as I suggested previously.
"I cannot really explain why I said this, because I do not believe it happened."
In the programme, Mr Keegan also described "all the boys running past the detainee and hitting him", however he told the inquiry that he did not recall this actually happening.
The inquiry was set up in 2010 and is named after one of the Iraqi men, 19-year-old Hamid al-Sweady, who is alleged to have been unlawfully killed while being held after the battle.
The inquiry continues.