Pakistan church bombing victims 'martyrs', archbishop says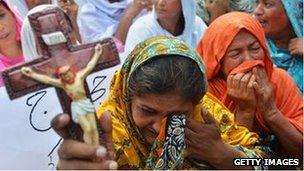 Victims of an attack on a church in Pakistan should be considered Christian martyrs, the Archbishop of Canterbury has said.
At least 80 people were killed in the double suicide bombing at the All Saints church in Peshawar as worshippers were leaving Sunday Mass.
The Most Reverend Justin Welby said the victims of the "appalling" attack had been targeted because of their faith.
He said the Pakistan government has a "duty" to protect all its citizens.
Archbishop Welby told BBC Radio 4's The World At One: "I think Christians have been attacked in some cases simply because of their faith.
"I think it is true to say in All Saints Peshawar that we have seen more than 80 martyrs in the last few days.
"They have been attacked because they were testifying to their faith in Jesus Christ by going to church and that is outside any acceptable expression in any circumstances for any reason of religious differences."
Militants linked to Pakistani Taliban have said they carried out the bombing.
Archbishop Welby also condemned the use of Pakistan's blasphemy laws, which critics have said are being used to persecute minority faiths in the country.
"The laws were brought in some time ago and their application varies from time to time but they have been often used in ways that seem to us to be unjust and targeting minorities, and being used as an excuse to attack minorities," he said.
"And it's in these sorts of areas that we call on the government and the security forces to ensure that all people are treated equally under the law."
During the interview, Archbishop Welby asked Anglicans to pray for the victims and the perpetrators of an attack on a shopping centre in Nairobi, Kenya, that left 67 people dead.
"As Christians, one of the things is that we pray for justice, we're deeply committed to justice and particularly the issues around the anger that comes when there's this sort of killing but we're also called, as Jesus did at the cross, to pray for those who are doing us harm," he said.