Peru drugs: Strain shows as UK women admit smuggling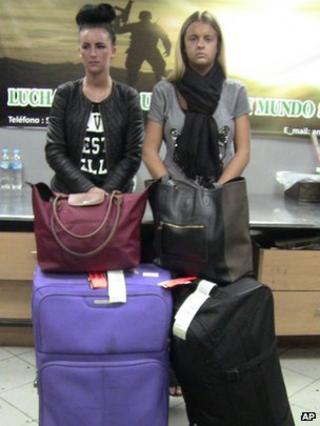 As Michaella McCollum and Melissa Reid were led into their hearing in one of Peru's most notorious and toughest prisons - within sight of the airport where they were detained for drug smuggling last month - the whole enormity and seriousness of their predicament must have dawned upon them.
The two 20-year-old women, who on previous appearances had seemed to be bearing up well, looked pale and tired as they climbed down from the prison van at the Sarita Colonia jail in handcuffs.
Staring straight ahead, they ignored questions from waiting journalists.
McCollum, from Dungannon, County Tyrone, and Reid, of Lenzie, near Glasgow, have been in jail since their arrest in early August.
They have already spent several weeks in a women's prison on the other side of Lima, and their families have made it clear their priority now is to make sure that, whatever sentence they receive, they spend as little time as possible in a Peruvian jail.
To that end they accepted the charges against them - that they knowingly tried to smuggle 11kg (24lb) of pure cocaine out of the country.
Although it is not known how much the two women were paid, the haul had an estimated street value of about £1.5m.
Such a large amount would normally merit a long, drawn-out legal process with a hefty sentence at its conclusion.
Not only was their original story - that they had been coerced and threatened with violence to carry the load - barely credible and full of contradictions, but it was doing them no favours.
Peru has a dilemma.
Senior anti-drugs officials here say they are winning the so-called war on drugs and point to the detention of so many "mules" like McCollum and Reid, as proof that their efforts are working.
But most officials acknowledge that for each person stopped carrying narcotics at the airport, an equal number get through.
With well over 1,000 foreign smugglers in its jails, the authorities in Peru seem to be prepared to accept plea bargains where possible.
But they are also anxious to send a message that carrying cocaine either in your luggage or concealed on your person is not worth the risk and the penalties can still be harsh.
The two young friends had travelled here from Ibiza, where they'd been working in seasonal jobs.
Although officials here insist there's no such thing as a "typical" drugs mule, they are in many ways what you'd expect from the many Europeans who are tempted to run the gauntlet of the sniffer dogs and eagle-eyed anti-drugs agents at the airport.
Looking for signs of nervousness or stories that don't add up, the officials here are identifying and catching the "mules" on a daily basis.
But they are nearly all small fry, expendable players in a billion-dollar trade.
The real money is made by men and by gangs who are careful not to get caught in the possession of drugs nor communicating directly with gullible young conduits like Reid and McCollum.
How much success Peru and other Andean nations that supply this lucrative trade are having against the cartels and the drugs barons is questionable.
As long as there is demand in Europe and North America, not to forget the growing "markets" of Brazil and Argentina, there's little realistic hope of stemming the flow of narcotics.
Yes, Peru can boast another successful, high-profile drugs bust and the warnings it sends out to other would-be mules.
But as two young women await their sentences, Peru's newly acquired status as the world's number one producer of the raw material for producing cocaine is a statistic that betrays the truth of where the "war on drugs" is really at.