'Plebgate' inquiry: Five police among eight further bailed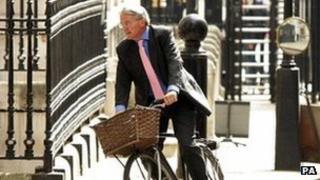 Eight people previously arrested over the "plebgate" row involving the former government chief whip Andrew Mitchell have been further bailed.
The eight, including five police officers, have been bailed to return on a date in October, Scotland Yard said.
Mr Mitchell apologised for not treating officers with respect after he was told not to take his bike through the main Downing Street gate in September 2012.
But the Conservative denied newspaper claims he called police as "plebs".
He also denied directly swearing at any officers.
The eight arrests were made between December 2012 and July 2013 as part of Operation Alice, the investigation into the incident which led to Mr Mitchell's resignation from the cabinet as well as related police conduct.
Last week, former Home Secretary Jack Straw wrote to current Home Secretary Theresa May to urge an investigation into the "inordinate and unjustified delays" to the probe into the incident.
The five police constables bailed on Tuesday remained suspended from duty, the Metropolitan Police said.