Newspaper review: Ex-spin doctor's claims hit headlines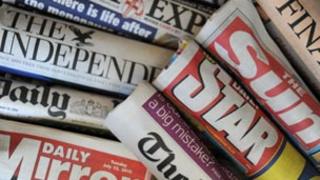 The Daily Mail continues its extracts from a former Labour spin doctor's book with the claim that Gordon Brown discussed deploying troops on Britain's streets during the 2008 financial crisis.
Damian McBride claims the former prime minister feared "anarchy" the night before he announced the part-nationalisation of British banks.
The Times leads with an admission from Ed Balls that he was part of what it calls "the Brownite macho cabal".
In an interview, he says he regrets the tribal Blair-Brown divides, and admits they were damaging to the government - but insists he didn't know about any smear campaigns, and distances himself from Gordon Brown and Damian McBride.
The paper believes the memoirs by the man it calls "the McBride of Frankenstein" have "re-opened Labour's deepest wounds" and revealed a toxic culture that has yet to be eradicated.
The Independent says Labour's conference may be Ed Miliband "last chance to regain control", but argues "all he needs to do" is spell out "not just what he stands for, but what he would actually do".
The Daily Telegraph leads with shadow Treasury minister Rachel Reeves, who says the party wouldn't raise taxes for people earning £60,000 a year - because they're not "rich".
Instead, she says, the focus would be on what she calls "the privileged few" on salaries of £150,000 or more.
For the Daily Mirror, Friday's promise from Mr Miliband to scrap what it calls "the hated bedroom tax" is "smart One Nation Labour".
Breakfast clubs
The Guardian's top story comes from shadow home secretary Yvette Cooper, who says Labour will offer "guaranteed" childcare from 8am to 6pm every day, available to all parents of primary school children.
The party claims many breakfast clubs and after-school clubs, which help working parents, have closed due to cuts since the 2010 election - and it wants to use "central government money" to offer "wraparound" care.
Godfrey Bloom, who had the UKIP whip withdrawn on Friday after using the word "sluts" in relation to a group of women, makes headlines in several papers.
For the Sun, Bloom is "just the most visible" of what it calls the oddballs and dinosaurs that surround Nigel Farage in a party which, it says, "may well decide who is in Downing Street come 2015".
But, writing in the Financial Times, Matthew Engel argues that - while he wrecked what might have been the greatest day of the party's 20-year life - "Mr Bloom may matter less than UKIP's rivals might think", with the party's electoral appeal coming down to its opinions on the EU and immigration.