Cyber-blackmailers 'abusing hundreds of UK children'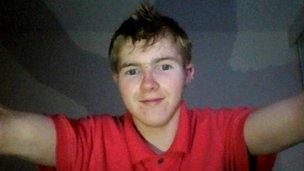 Hundreds of British children are being blackmailed into performing sex acts online, the Child Exploitation and Online Protection Centre has warned.
Abusers posing online as children talk victims into sexual acts or sharing of images, then threaten to send pictures to the child's family and friends.
Ceop said in 12 cases over two years, 424 children had been blackmailed in this way - 184 of them in the UK.
Deputy chief executive Andy Baker said the abuse "escalates really quickly".
He told BBC Radio 4's Today programme that it could take as little as four minutes "to go from, 'Hi, do you want to get naked?', to self-harming".
Seven victims have killed themselves, including a 17-year-old in the UK.
Another seven seriously self-harmed, of whom six were from the UK.
Mr Baker said: "We're talking about a very small dark percentage of [the internet] and this is what we need to police".
Daniel Perry, from Dunfermline, Fife, took his own life in the summer after blackmailers demanded thousands of pounds having tricked him into thinking he was chatting with a US girl.
He was told that his video conversations would be spread among friends and family unless he paid cash. Other victims have been told their activities would be shared unless they performed more extreme acts.
In the 12 cases highlighted by Ceop, the abusers came from four continents and in five cases the criminals were based in the UK.
Children as young as eight had been forced to perform "slave-like acts", said Mr Baker. As well as the performance of sex acts, the abuse sometimes involved being forced to self-harm and there had been a few attempts to extort money.
Experts highlighted the accessibility of the English language and foreign abusers' perceptions about the liberal nature of UK society as reasons for the targeting of British children.
Mr Baker said thousands of British children could have been approached in attempts to instigate abuse.
While only a handful of children will respond, thousands are exposed to the risk, he said.
Ceop operations manager Stephanie McCourt said: "First of all it's the English language. They are able to threaten the children if they can communicate to them. English is a really popular universal language.
"Second of all, the offenders have actually said that because they perceive the UK as a very free and open and liberal society, they think that they will have more success in targeting UK children."
The biggest case, known as Operation K, involved 322 children around the world being blackmailed, including 96 in the UK.
The victims were mainly boys aged 11 to 15, who were targeted by a gang from a non-European country. The suspects are due to stand trial in the coming weeks.
The gang used more than 40 fake online profiles and more than 40 different email addresses to carry out their abuse.
The network of abuse was exposed after a social networking site noticed suspicious activity and a British child told their parents.
Set up in 2006 in affiliation with the Serious Organised Crime Agency, Ceop is a police agency dedicated to protecting children from sexual abuse.
Ceop said warning signs that a child was being subjected to online abuse could include them becoming aggressive, withdrawn, or self-harming.
But in Daniel Perry's case it appears there were no warning signs.
His mother told reporters after his death: "He was a happy laddie, not depressed and the last type of person you would think would take their life... We're a very close family and I just wished he had come to me and said something."
The apprentice mechanic had been having online conversations with someone he believed to be a girl around his own age.
Just before his death, he was warned by the blackmailers that he would be better off dead if he did not transfer the cash. Less than an hour after replying to the message, he fell from the Forth Road Bridge.
Scott Freeman, the founder of cyberbullying charity Cybersmile, told the BBC it was important for parents to educate themselves and their children about the internet - particularly online privacy settings and the procedures available for reporting incidents.
He said: "Don't talk to people you don't know, don't move from the platform onto more private platforms."
Internet providers could do more to tackle abuse, Mr Freeman said, but he added: "We've started to see some of them take responsibility now and they've started to put procedures in place so hopefully things are moving in the right direction."
Abuse can be reported to Ceop online at www.ceop.police.uk, via the NSPCC helpline's on 0800 328 0904, or to police