'Plebgate' inquiry: Theresa May urged to seek answers from police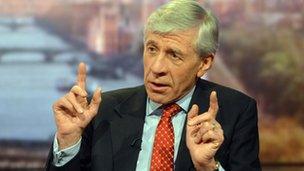 Former Home Secretary Jack Straw has urged Theresa May to seek answers over the police inquiry into the so-called plebgate incident in Downing Street.
Scotland Yard has been investigating the row a year ago between police and then Tory Chief Whip Andrew Mitchell.
In a letter to the current home secretary, Labour MP Mr Straw says she should find out why the probe had "inordinate and unjustified delays".
He said it was taking a "toll" on Mr Mitchell, who was a "personal friend".
The incident took place on 19 September last year when Mr Mitchell was told by police not to take his bike through the main Downing Street gates.
Mr Mitchell, who resigned as Conservative chief whip a month later, has admitted swearing at the officers but always disputed newspaper claims that he described them as "plebs".
Mr Straw's letter comes after similar concerns about the length of the investigation were raised by former director of public prosecutions Lord Macdonald and ex-Conservative leader Michael Howard.
Mr Straw told the BBC he had "volunteered" to write to the home secretary, after discussing the issue with Mr Mitchell.
"While it is not appropriate to influence an investigation, it is appropriate to find out what is going on and why delays are taking place," he said.
He also stressed it was significant that Mr Mitchell had the support of "politicians of different parties" in a case, which contained some "pretty odd things" and could "bring the police into disrepute".
In his letter, Mr Straw said: "I may be on a different political side from Mr Mitchell, but I am also a friend of his, and have a high respect for his abilities and integrity too.
"No-one, whatever their position, should have to suffer the toll which all this has taken on Andrew and his family. It's high time these delays were brought to an end."
Mr Straw acknowledged that it was not the role of a home secretary to "seek to influence the outcome of any investigation", but said Mrs May's statutory responsibilities for the overall supervision of the police meant it was reasonable for her to seek answers.
He suggested she should find out what was causing the delays in the investigation, called Operation Alice, including when it was expected to finish and how the initial police account of the incident found its way into the Sun newspaper.
Mr Straw added that "some conclusions should be reached, so that [Mr Mitchell] and his family can get on with their lives, and he can resume his career".
Eight people have been arrested in connection with the inquiry, including five police officers.
The Independent Police Complaints Commission (IPCC) has defended Scotland Yard, saying "what has evolved are allegations of a conspiracy which by its very nature is complex".
In a statement issued on Tuesday after Lord Macdonald's comments in the Times newspaper, the Metropolitan Police said its inquiry was "examining very serious allegations, that go to the heart of the public's trust in the police service".
"The investigation is being conducted with oversight from the IPCC. This complicated inquiry will go where the evidence takes us, and will take as long as is necessary."
Related Internet Links
The BBC is not responsible for the content of external sites.