'Plebgate' inquiry delay criticised by ex-DPP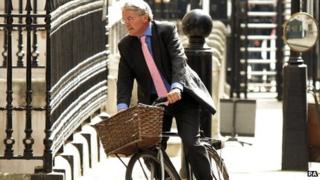 It is "not good enough" for police to say their "plebgate" inquiry will "take as long as it takes", a former director of public prosecutions has said.
Police are investigating claims then-Tory cabinet minister Andrew Mitchell called police officers "plebs" in September 2012 - something he denied.
Lord Macdonald QC told the BBC that the public and Mr Mitchell both "deserved closure" in relation to the row.
The IPCC joined the police in defending the length of the "complex inquiry".
Mr Mitchell apologised for having not treated officers with respect after he was told not to take his bike through the main Downing Street entrance on 19 September last year.
He has admitted swearing at them, leading to his resignation as chief whip, but has always disputed newspaper claims he described officers as "plebs".
CCTV footage casting doubt on the original police accounts of the row emerged in December and the Met reopened its investigation into what happened.
Since then eight people have been arrested under Operation Alice, including five police officers.
Mr Mitchell, meanwhile, has asked the Independent Police Complaints Commission to look into claims that the Met leaked details of its own report to the press and said he would sue the Sun newspaper, which first ran the story.
'Sooner rather than later'
Lord Macdonald - the director of public prosecutions between 2003 and 2008 and now a Lib Dem peer - has pointed out that "the police have now spent 12 months investigating an incident that lasted 45 seconds".
"It's not good enough for the police to say it will take as long as it takes," he told the BBC.
"The public deserves some closure, Mr Mitchell deserves some closure.
"This is a cabinet minister forced to resign. If it turns out to be the case that the police are completely exonerated - fine, excellent, let's have that result.
"If it turns out that evidence against Mr Mitchell was fabricated, that is an exceptionally serious situation which we need to grapple with, sooner rather than later."
In a statement, the Met Police said Operation Alice was "examining very serious allegations, that go to the heart of the public's trust in the police service".
It added that since its initial file was passed to the Crown Prosecution Service in March 2013, "three separate pieces of information have been given to us".
'Satisfied'
"The investigation is being conducted with oversight from the IPCC. This complicated inquiry will go where the evidence takes us, and will take as long as is necessary."
In a statement, the Independent Police Complaints Commission backed the length of the investigation.
"While the incident which sparked this investigation is on the face of it simple - it took less than a minute to unfold - what has evolved are allegations of a conspiracy which by its very nature is complex," said IPCC deputy chair Deborah Glass.
"While I share the concerns of others that the investigation is taking far longer than originally anticipated, I am regularly updated on its progress, I am personally reviewing the evidence and I am satisfied that all that can be done to conclude the investigation is being done and that Mr Mitchell himself is kept informed."