MoD defends decision to put down 'William' guard dogs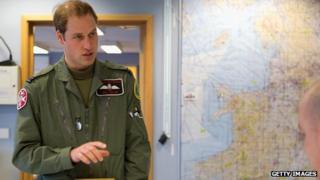 The Ministry of Defence has defended a decision to put down two guard dogs used to protect the Duke of Cambridge, days after he left his military base.
The Sun reported the dogs were put down following Prince William's final shift as a search-and-rescue pilot at RAF Valley, in Anglesey, last week.
The MoD said it always tried to rehome dogs but that it had not been possible in this case.
The Dogs Trust charity said dogs were not "kit that can be decommissioned".
The patrol dogs were said to have been part of a unit providing extra security at RAF Valley and were not providing sole protection for the duke.
Belgian shepherd Brus was at the end of his working life and Blade, a German shepherd, had "behavioural issues", said the MoD.
'Last resort'
The duke started his training at RAF Valley in January 2009 and graduated as a search-and-rescue pilot in September 2010.
He announced he was to leave the military to focus on royal duties and charity work after carrying out his final operational shift on 10 September this year.
An MoD spokesman said: "It is true two dogs have been put down, a couple of days after. It was entirely coincidental."
He added that Blade, who also "had a record of veterinary issues", could not be reassigned to other duties.
The spokesman said: "The department's policy is to rehome all military working dogs at the end of their service life wherever practicable.
"Regrettably, however, there are occasions when they have to be put down. This action is only ever taken as a last resort.
'Loyalty'
"Unfortunately in this case the dogs were unsuitable for rehoming or alternative duties and so sadly, for the animals' welfare, they had to be put down."
The Dogs Trust said the news would sadden dog lovers and dogs were "not pieces of disposable kit that can be decommissioned at the end of their 'useful' military life".
It acknowledged that not all service dogs could be rehomed but said there were alternatives for healthy dogs, such as deployment to another role or retirement to a specialist handler.
"Although it is impossible for Dogs Trust to speculate about the decisions made about Brus and Blade, we would have hoped that the loyalty the dogs had shown their handlers during their working life was reciprocated at the time of their retirement," said the Trust, which describes itself as the UK's largest dog rehoming charity.