Eighteen soldiers in positive drug tests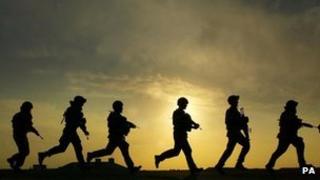 Eighteen soldiers have tested positive in an Army drug testing programme, the Ministry of Defence has confirmed.
Officials have not said which drugs were involved but it is believed to relate to a banned sports supplement.
An Army spokesman said "appropriate internal action" will be taken against the soldiers, all of 7 Parachute Regiment Royal Horse Artillery.
Individuals found to be taking or supplying illegal drugs can be discharged from military service.
The soldiers were reported to be among 400 members of the regiment, based in Colchester, Essex, tested at the end of August.
It comes after the Army began new screening tests this year to look for steroids and sports supplements containing prohibited substances.
Compulsory testing for drugs such as heroin, cocaine, amphetamines and cannabis were first introduced in 1998.
According to the Daily Mail the soldiers are understood to have claimed they unwittingly took ephedrine, a prescription medicine that features in some unlicensed bodybuilding products available online.