Stray dog concerns persist despite drop in total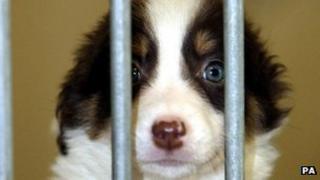 More than 300 stray dogs are picked up from Britain's streets each day, figures from the Dogs Trust indicate.
Despite microchips reducing the number of strays, local authorities picked up 111,986 dogs last year.
"Whilst it is encouraging to see that the number of strays has fallen there is clearly still a problem," said Trust CEO Clarissa Baldwin.
"We hope this alarming number will remind dog owners to ensure that theirs is microchipped."
There are plans for microchipping to become compulsory by 2016, but even on a voluntary basis the Trust said the scheme was already having a major impact on the population of strays.
The annual survey of the past 12 months by Britain's largest dog welfare charity indicated a 6% fall in the number of stray and abandoned animals picked up - 48% of those animals were successfully reunited with their owners.
A further 36% were found a new home either through animal welfare groups or local authorities, but 8% had to be put to sleep.
The Trust never puts any healthy animal to sleep, but Ms Baldwin said her charity sympathised with local authorities having to resort to such measures.
"They should be commended on their efforts to encourage responsible dog ownership, which is reflected in the reduction in strays," she said.
"They do not want to put dogs to sleep but they are struggling to cope with such huge numbers... in a difficult economic climate."
The survey indicates that the problem of strays grew in the north of England - with a 43% rise in Yorkshire - but the trend was down in southern England, with the Anglia region showing a 29% fall.
Scotland (22%), Northern Ireland (37%) and Wales (14%) also saw reductions in their population of strays.