Syria: UK weapons experts could assist, says Hague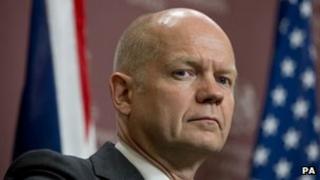 The UK is willing to send experts to Syria to help remove the regime's stockpile of chemical weapons, the foreign secretary has said.
William Hague said the government was "open" to sending specialists as part of an international team, but UK troops would not be used to protect them.
"We will not be sending British troops into Syria. Not for these or any other circumstances," he said.
A UN report has confirmed that chemical weapons were used in Syria.
The report, published on Monday, said nerve gas sarin was used in a rocket attack on the outskirts of the Syrian capital Damascus in August, although it did not attribute blame.
Several countries, including the UK and US, have blamed Syrian President Bashar al-Assad for the attack, which reportedly killed hundreds of people. The US and France had threatened to respond with military action.
The Syrian government has always denied using chemical weapons, with officials blaming rebel forces. Russia, a key ally of Syria, has said there is no proof the regime was involved.
On Saturday, the US and Russia announced an agreement, which said Syria had to hand over a full list of its stockpile within a week and destroy its chemical weapons by mid-2014.
World powers will now try to hammer out a UN Security Council resolution to create a binding commitment for the regime to give up its chemical weapons.
'Largest stock'
Speaking on BBC Radio 4's Today programme, Mr Hague said dealing with Syria's chemical weapons would be a "huge task".
"This is probably the largest stock of chemical weapons in the world, held on multiple sites in many different forms, in a country that is a contested battlefield," he said.
"The verifiable destruction of these weapons is a very difficult task. But it is possible, provided the international community is insistent that the Assad regime is compliant."
Mr Hague said the UK would be willing to send experts as long as there was confidence about their security.
Asked if British troops could be deployed to Syria, he said: "We won't be deploying boots on the ground in Syria.
"I don't think that would be a good way to provide security inside Syria, given that might create strong feelings within Syria, so that would have to be provided in a different way."
All the areas concerned are regime-controlled, so it should be possible to make security arrangements, he added.
"Interestingly, given all the debate in the past about whether this was the regime or the opposition, there is no consideration being given to securing chemical weapons held by the opposition because nobody actually believes they've got any," Mr Hague said.
"Even the Russians are not discussing the declaration and destruction of opposition-held chemical weapons because even they don't think they really exist."
Under the framework deal, the US and Russia will ask the Organisation for the Prohibition of Chemical Weapons (OPCW) to approve procedures for Syria's chemical weapons programme to be destroyed, and for "stringent verification" that this has taken place.
Mr Hague, who will hold talks with Russian Foreign Minister Sergei Lavrov later on Tuesday, said he hoped the OPCW would come to a decision by the end of the week and that a resolution would be put to the UN security council over the weekend.
The foreign secretary said it was very important that Russia put its "full weight" behind implementing the agreement.
"At the moment we have no reason to think they won't but we will have to watch this very carefully over the coming days," he added.