Benefit fraud could lead to 10-year jail terms, says DPP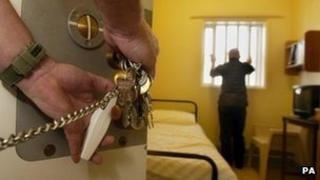 Benefit cheats in England and Wales could face longer jail terms of up to 10 years, following new guidance from the director of public prosecutions.
Keir Starmer QC said it was time for a "tough stance" given the £1.9bn annual cost of the crime to the nation.
He urged prosecutors to consider charging under the Fraud Act - rather than social security laws - because of the scope for longer sentences.
The prime minister's spokesman said he welcomed the move.
The BBC's legal correspondent Clive Coleman said the changes meant welfare cheating would now be classed alongside offences such as money laundering and banking fraud.
Cash limit
In the past, benefits cheats were commonly charged under social security legislation carrying a maximum sentence of seven years.
And benefit frauds of less than £20,000 were automatically tried in magistrates' courts, which could only sentence people to up to 12 months imprisonment for multiple offences. For a single offence, the maximum was six months.
This financial threshold has been scrapped under the new guidelines, so smaller cases can be referred straight to crown courts for tougher sentencing.
Suspects can also now be charged under the Fraud Act, which carries a maximum sentence of 10 years, according to the Crown Prosecution Service (CPS)
In 2012, the number of offenders jailed for benefit fraud was 262 and the average sentence length was six months and one week.
Stolen identity
Mr Starmer said: "It is a myth that 'getting one over on the system' is a victimless crime: the truth is we all pay the price. But it's not only the taxpayers that suffer.
"Benefits exist to protect and support the most vulnerable people in our society and, whenever the system is defrauded, it's also taking money away from those with a genuine need."
The DPP said prosecutors should consider a number of factors when deciding how to charge, including:
Whether the fraud was professionally planned
Whether multiple frauds occurred or a single fraud was carried out over a significant period of time
Whether a false or stolen identity was used
Whether the perpetrator abused a position of trust in order to commit the offence
The move comes after the CPS merged with the Department for Work and Pensions' prosecutions division last year.
Jonathan Isaby, political director of the TaxPayers' Alliance, welcomed it, saying: "This is people stealing from taxpayers - stealing from vulnerable people.
"A message needs to go out that this is unacceptable and increasing sentences will act as a deterrent."
But Labour MP Theresa Pearce, who is a member of the Commons' Work and Pensions Committee, accused Mr Starmer, who is due to stand down from his CPS role in October, of "trying to look tough" on benefit cheats.
"Ten years in prison, really? For something that could be like a couple of thousand pounds. Yes, that's bad and there's a way you should get it back but I just don't understand why this is his priority in his final months," she said.
Earlier this year, MPs on the Communities and Local Government Select Committee called on the government to give a "swift assurance" that the introduction of its new welfare system, known as universal credit, would not cause a rise in benefit fraud.
Universal credit will eventually replace six key means-tested benefits with one payment.
Last year, the CPS saw more than 8,600 prosecutions in benefit and tax credit cases, and 4,000 in the first five months of 2013, Mr Starmer said. The current conviction rate is 89.7%, he added.
The government says it has saved hundreds of millions of pounds by introducing better fraud prevention and reducing errors in the tax and benefit system.
A Downing Street spokesman said: "Benefit fraud is very serious. It's wrong and that's why the prime minister warmly welcomes this announcement."