ChildLine to teach all UK primary schools about abuse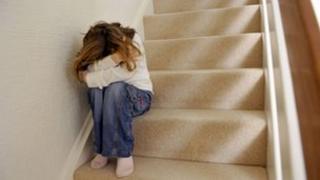 Volunteers from the helpline ChildLine are planning to visit every UK primary school at least once every two years to teach children about abuse.
The new NSPCC campaign called Now I Know aims to teach nine to 11-year-olds about self-protection and getting help.
NSPCC chief executive Peter Wanless said the Jimmy Savile case showed what happened if people did not "speak up".
On average, two children in every primary class have suffered some form of abuse or neglect, the charity said.
Mr Wanless said: "We want children to be able to say 'now I know' - and not 'I wish I had known'. And we want everyone to play their part by looking out for children and reinforcing the messages about speaking up.
"Jimmy Savile's crimes are one shocking illustration of the consequences when people do not speak up and are not heard, for whatever reason."
The NSPCC has previously said Savile, who died in 2011, had been one of the most prolific sex offenders in its 129-year history.
'Inspire everyone'
According to ChildLine, the majority of children who contact its helpline are aged over 11, but many speak about abuse which happened months or years earlier.
A study carried out by YouGov for the NSPCC showed just 36% of UK adults thought they would have recognised abuse if it had happened to them at primary school age.
It also found 38% of those polled said they would have known who to ask for help at that age.
Mr Wanless said the charity wanted to "inspire everyone to believe" child abuse - which can include physical, sexual and emotional abuse - can be prevented.
"Protection after the event, vital as it is, can't attack the root causes of the problem," he said.
"By helping children understand and identify abuse in an age-appropriate way, we can encourage them to speak out earlier and protect themselves and others from the devastating effects of abuse."
The ChildLine Schools Service, which is free to all UK primary schools, has visited 270,895 children in 3,956 schools so far.
Separately, almost 50,000 people have signed a petition calling for a new law forcing people who work with children to report suspected child abuse.
The petition will be handed to 10 Downing Street later ahead of the publication this week of the serious case review into the murder of four-year-old Daniel Pelka by his mother and stepfather in 2012.