Tony Blair's son Euan weds girlfriend Suzanne Ashman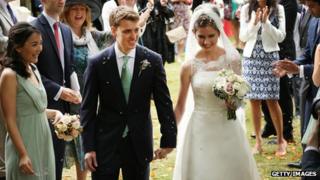 The son of former Prime Minister Tony Blair has wed his long-term girlfriend.
Euan Blair, 29, and Suzanne Ashman, 25, tied the knot at All Saints parish church in Wotton Underwood, Bucks.
The couple were driven away from the church in a black taxi cab before an expected reception at the Blair family's Grade I-listed mansion nearby.
The service was held at the Anglican church, even though Euan was raised as a Catholic along with his siblings, and his father converted to the religion.
Euan Blair is the chief commercial officer for recruitment and training agency Sarina Russo Job Access, while his new wife works as an analyst for Social Finance, a company which raises money for charities and social enterprises. She previously worked at the faith foundation charity set up by Tony Blair.
The bride wore a sleeveless ivory dress with a lace overlay and a full veil. She is the daughter of motor racing entrepreneur Jonathan Ashman, who married TV weather presenter Sian Lloyd in 2008.
Tony Blair was dressed similarly to his eldest son in a dark blue suit and turquoise tie with an ivory buttonhole. His wife Cherie wore a champagne-coloured dress and matching coat.
The couple have three other children, daughter Kathryn, 25, and sons Nicky, 27, and Leo - born in May 2000 when the Blairs were in Downing Street.
Guests at the wedding included Mrs Blair's father, the actor Tony Booth, and Lord Falconer, the former Lord Chancellor and a flatmate of Tony Blair when they were both working as barristers in London in the 1970s.