Syria weapons agreement a 'significant step' - Hague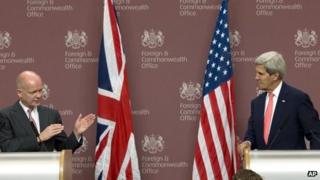 Foreign Secretary William Hague has welcomed a US-Russian agreement to eliminate Syria's chemical weapons as a "significant step forward".
He spoke to US Secretary of State John Kerry after a framework was outlined.
Mr Hague said there now must be "full and prompt implementation... to ensure the transfer of Syria's chemical weapons to international control".
He is due to travel to Paris on Monday to discuss the issue with Mr Kerry and the French foreign minister.
Under the agreement, Syria must hand over a full list of its stockpile within a week and destroy or remove its chemical weapons by mid-2014.
If Syria fails to comply, the deal could be enforced by a UN resolution backed by the threat of sanctions or military force.
US President Barack Obama has welcomed the agreement as an "important step".
Mr Hague has been pushing for an international response to a chemical attack in Damascus last month which the UK and the US blamed on the Syrian government. President Bashar al-Assad's regime has accused rebels of carrying out the attack.
Political solution
The possibility of Syria handing over its chemical weapons was publicly raised for the first time by Mr Kerry at a press conference with Mr Hague in London last week.
In a statement, the foreign secretary said his discussions with Mr Kerry and Laurent Fabius on Monday would cover "the way forward, including action at the United Nations Security Council".
He added: "The onus is now on the Assad regime to comply with this agreement in full. The international community, including Russia, must hold the regime to account.
"This includes doing everything we can to stop the continuing bloodshed in Syria, bringing all sides together to agree a political solution to the conflict."
Shadow foreign secretary Douglas Alexander said the removal of Syria's chemical weapons would "represent a dramatic step forward".
He added: "While this offer deserves a cautious welcome, the international community must work to establish whether this latest proposal is a serious initiative.
"Primary responsibility now lies with Assad who must take clear and verifiable steps to show that he is serious about handing over chemical weapons."
Deputy Prime Minister Nick Clegg said he would welcome moves by the Russians and Americans in tandem to put chemical weapons "beyond the use of the [Assad] regime". And he called for an "exacting, verifiable timetable which won't slip, which won't allow Assad to somehow escape from his obligations".
He added: "If the talks between the Russians and the Americans in Geneva lead to that outcome I think everybody will be very relieved at the good work that has clearly been achieved between the American and Russian governments."
More than 100,000 people have died since the uprising against President Assad began in 2011. Millions of Syrians have been displaced.
In a joint news conference in Geneva with Russian Foreign Minister Sergei Lavrov, Mr Kerry called on the Assad government to live up to its public commitments.
And in the White House statement, President Obama said that the US-Russian deal "represents an important, concrete step toward the goal of moving Syria's chemical weapons under international control so that they may ultimately be destroyed".
However, he added: "If diplomacy fails, the United States remains prepared to act."