Hague to hold Syria talks with US and France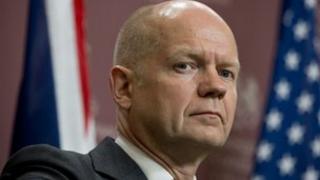 Foreign Secretary William Hague is to hold fresh talks with his American and French counterparts on Monday to discuss Syria.
Mr Hague will travel to Paris to meet US Secretary of State John Kerry and French foreign minister Laurent Fabius, the Foreign Office said.
Mr Kerry has spent two days in Geneva in talks with Russia's foreign minister on securing Syria's chemical weapons.
The secretary of state described the talks as "constructive".
He and Sergei Lavrov discussed a Russian proposal for Syria's President Bashar Assad to give up his chemical weapons for destruction by the international community.
Meanwhile, a UN report expected next week will "overwhelmingly" confirm that chemical weapons were used in Syria last month.
UN Secretary General Ban Ki-moon made no comment on who was to blame for the 21 August attack in the Ghouta area of Damascus, as that is not part of the report's remit.
But he did say Syria's president was guilty of "crimes against humanity".
Earlier this week, Prime Minister David Cameron said the Russian plan - apparently welcomed by Syria - was an idea "definitely worth exploring" but added that he entered the process with a "hard head and cool calculations".
Mr Cameron, who spoke to US President Obama and France's President Hollande on Tuesday, said he wanted to ensure that this was not just a way "to simply buy time" for Mr Assad.
'Deeply committed'
Mr Kerry is expected to remain in Geneva for further talks before meeting Mr Hague on Monday.
He said: "I will say on behalf of the United States that President (Barack) Obama is deeply committed to a negotiated solution with respect to Syria, and we know that Russia is likewise. We are working hard to find the common ground to be able to make that happen.
"We are committed to try to work together, beginning with this initiative on the chemical weapons, in hopes that those efforts could pay off and bring peace and stability to a war-torn part of the world."
He said that he and Mr Lavrov would meet again in the margins of the United Nations General Assembly in New York at the end of this month.
On Friday, UN Secretary General Ban Ki Moon said a UN report due out next week on the incident would be "an overwhelming report that chemical weapons were used".
The remit of the report is not to apportion blame and Mr Ban made no comment on that issue.
But he did say that Syrian President Bashar al-Assad had "carried out many crimes against humanity".
More than 100,000 people have died since the uprising against President Assad began in 2011. Millions of Syrians have been displaced.