Operation Elveden: Former Sun journalist charged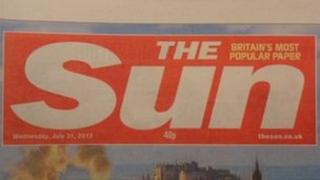 Former Sun deputy news editor Ben O'Driscoll is to be charged in a probe investigating inappropriate payments to public officials, the CPS has said.
Mr O'Driscoll was charged with one count of conspiracy to commit misconduct in public office.
He is alleged to have authorised payments of at least £5,000 to public officials, including police officers and employees of Broadmoor hospital.
He will appear at Westminster Magistrates' Court on 18 September.
Gregor McGill, a senior lawyer with the Crown Prosecution Service, said in a statement the alleged payments were for information "related to details about police incidents and crimes, including information about high-profile individuals and those associated with them".
"It also included information relating to the health and activities of Broadmoor patients," he added.
The payments were alleged to have occurred between 9 August 2007 and 11 January 2011.
Operation Elveden is being conducted by the Metropolitan Police, under the supervision of the Independent Police Complaints Commission.
It is running alongside Operation Weeting, the Met's phone-hacking inquiry, and Operation Tuleta, an investigation into computer hacking and other privacy breaches.