Terror-arrest charges reach highest level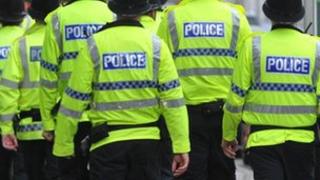 The number of people arrested in Britain for terrorism and subsequently charged with a criminal offence has reached its highest level.
In 2012-13, 105 people arrested for terrorism offences were charged, though only 37 of those charges were for terror-related offences.
The other 68 were charged under other legislation, Home Office figures show.
In all, 249 arrests were made - up 21% on the previous year and the most since 2005-06, when there were 284.
Of those arrested in 2012-13, 105 were released with no further action.
Other measures, such as immigration action, were taken in 39 cases.
Of the 37 people charged, 23 have been convicted of an offence, with 13 still awaiting trial and one case not proceeded with.
British nationals
So far, 17 of those convicted have been sentenced, with 16 sent to prison and one receiving a hospital order. None of those jailed received a life sentence.
During 2012-13, 39 people previously jailed for terrorism offences were released.
The figures, published by the Home Office, also show five terror suspects were held in custody before charge for longer than seven days, and three were held for the maximum 14-day period.
At the end of March this year, there were 121 convicted prisoners classified as terrorists being held in British prisons, and just under three-quarters of these were British nationals.
Home Office figures also show 2,297 people were arrested on suspicion of terrorism offences from September 2001 to August 2012.
Just over 46% of these were Muslims, while 47% were of "unknown" religion and the remainder were of other religions or no religion.
The Terrorism Act came into effect in February 2001 and the government began publishing figures on arrests and charges in September of that year.