Record 70,000 people volunteer for National Trust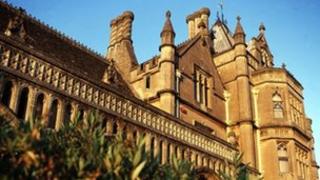 A record 70,000 people volunteer with the National Trust in activities from toad patrols to cleaning stately homes, the conservation charity has said.
The trust's annual report revealed the number of people giving their time had more than doubled over the past decade.
It said the figure was equivalent to the amount of games makers at the 2012 Olympic and Paralympic Games in London.
Director-general Dame Helen Ghosh said volunteers were vital to the running of the organisation.
They have roles including being room guides and membership recruiters at National Trust properties, counting birds at conservation sites and cleaning beaches.
The trust gave examples of overnight patrols to help toads cross a busy road near Leith Hill, Coldharbour in Surrey, during the mating season and a major spring clean of Victorian Gothic revival house Tyntesfield, near Bristol.
The trust site with the most volunteers is the South Lakes in Cumbria with 937 helpers, while Tyntesfield has 845.
Volunteers cover a wide age range from the oldest, Ron Price, 95, who is a room steward at Buckland Abbey in Devon, to Paul, Daisy, and Thomas Nash, aged four, three and 17 months, who help test children's activities at Tyntesfield.
'Skilled and committed'
Dame Helen said: "When you visit one of our properties, for the most part the people that welcome you, explain the history of the place and look after it are all volunteers.
"On the coast and in the countryside, it is often volunteers who restore habitats, care for wildlife and maintain footpaths."
Justin Davis Smith, executive director of the National Council for Voluntary Organisations, said research suggested London 2012 had contributed to an upsurge in people donating their time for free.
He said: "The trust has clearly risen to the challenge of capturing this spirit and turning it into a lasting legacy. And the legacy is not only of greater community benefit.
"Where volunteering works well, as it clearly does within the National Trust, it benefits all concerned, including the volunteers who learn new skills, meet new people and reap the rewards of improved physical and mental wellbeing."