Oxfam warning over cuts and poverty levels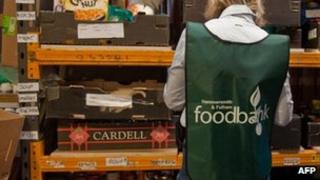 Government spending cuts could push millions of people into poverty by the end of the decade, a charity has said.
Oxfam warned that 1.9 million adults and 800,000 children in the UK faced this risk after austerity measures.
In a report, Oxfam estimated it could take up to 25 years for poverty levels in Europe to improve to the situation of before the 2008 economic downturn.
The government said improving the UK economy, along with tax changes, would benefit people's living standards.
'Suffering created'
Oxfam said as many as 25 million more people across Europe could no longer have a decent standard of living by 2025.
It said austerity measures had increased poverty and inequality "massively", and urged governments in the UK and the rest of Europe to reverse them.
The report said: "Oxfam can no longer stand by while such poverty and suffering are being created in Europe.
"At best, the countries most affected by austerity will become the most unequal in the Western world. At worst, they will rank amongst the most unequal anywhere in the world."
The report claimed that pay in the UK had fallen by 3.2% in real terms since the financial crisis to the levels of a decade ago.
Oxfam called for investment and capital spending to stimulate the economy, to replace austerity measures.
'Richest benefit'
The charity said: "Governments have responded with an austerity and adjustment model that has largely failed to lead to growth, and which is already increasing inequality and poverty.
"Even when countries do return to growth, the mechanisms to reduce inequality... will have been severely weakened by austerity, meaning that the richest will benefit the most from new growth."
The UK government responded by saying tax and welfare changes would benefit millions of households and lift hundreds of thousands of children out of poverty.
A spokeswoman said: "We know that times are tough, and we have already taken action to help families with the cost of living including cutting income tax for 25 million people, which will save a typical taxpayer over £700, taking 2.7 million people out of income tax altogether and freezing council tax for five years, saving a typical household £600.
"Fundamentally, the best way to improve living standards is to tackle the UK's economic problems head on and build an economy where those who aspire to work hard and do the right thing are rewarded."