Sir David Attenborough warns over top BBC pay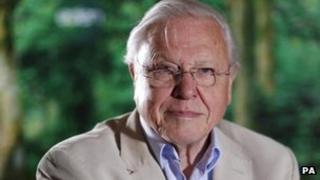 Sir David Attenborough has described the salaries of senior BBC management as a "huge embarrassment".
The veteran BBC broadcaster told the Guardian it would be a "catastrophe" if the corporation's funding was cut.
The BBC has been criticised after it paid £25m ($39m) to 150 outgoing executives over three years.
MPs said there was "gross incompetence" in the way the pay-offs were handled but former director general Mark Thompson defended the payments.
'Important strands'
Sir David said: "It doesn't require me to say that it is a huge embarrassment that salaries of that size are being paid in a public service organisation."
Asked if he was worried that the controversy could damage the BBC, he added: "Very much so.
"The BBC is in my view one of the most important strands in the cultural life of this country... and it is going through a bad patch. I just hope that it will emerge from the bad patch with the standards that made it great still there."
Sir David said there were plenty of people who "would be glad to see the BBC diminished".
"Ideally they would like the BBC to be exterminated but they realise that will never happen, or should not happen," he said.
"But what could happen is it is diminished or it is so starved of money that it has to abandon many of its public service responsibilities.
"If it did that it would no longer be the BBC and that would be a catastrophe for the country."
He said the BBC Trust, which replaced the BBC board of governors in 2007 to represent licence fee payers' interests, "doesn't appear to have worked very well as far as one can see".
"The executive can't be allowed to go without any checks and balances, that's perfectly proper, but the check and balance we have got at the moment seems to have got out of kilter."
Severance cap
The £25m in pay-offs between 2009 and 2012, including almost £1m to former deputy director general Mark Byford, was £2m ($3.1m) more than their contracts stipulated.
Seven past and present BBC bosses were questioned by the Commons Public Accounts Committee (PAC) on Monday about the severance payments.
Speaking after the hearing, committee chairwoman Margaret Hodge said it was an "unedifying experience" watching senior BBC figures "try to avoid responsibility".
During questioning, Mr Thompson, who is now chief executive of the New York Times newspaper, denied that the corporation had "lost the plot" and said the pay-offs had saved money.
Following the hearing, former BBC chairman Lord Grade said the corporation "suffers more and more from a lack of understanding the value of money".
The BBC has recently introduced a £150,000 cap on severance pay.
The National Audit Office has previously criticised the corporation, saying the scale of the payments puts public trust at risk.