Michael Le Vell cleared: Should rape suspects get anonymity?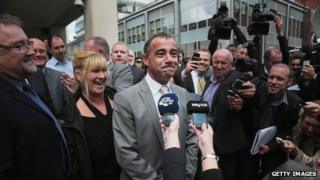 In the wake of Coronation Street actor Michael Le Vell being cleared of child rape and other sex abuse charges, the question of whether suspects in such cases should be granted anonymity, just as complainants are, arises once more.
Mr Le Vell, who plays Kevin Webster in the soap, told the jury during his trial that he was "fighting for his life". Others wrongly accused of serious sex offences say the experience has devastated the rest of their lives.
The question of anonymity for suspects in sex abuse or rape cases is one that sharply divides opinion.
In 1976, rape defendants were granted anonymity by the government, but 12 years later that protection was removed.
In 2006, the Liberal Democrats voted for anonymity at their conference and in 2010 the issue turned up again in the coalition agreement, but a pledge to introduce anonymity for rape suspects in England and Wales until conviction was dropped when ministers said there was not enough evidence to justify a change in the law.
'Hauled through mud'
They said they had examined a number of key areas, including the primary argument against anonymity of suspects - that publicity of a person's name often prompts further victims of an offender or witnesses to an offence to come forward.
But as Mr Le Vell attempts to get his life back on track, including a probable return to his on-screen role in the ITV soap, those who have been through similar situations know just how difficult that will be.
Christine Hamilton, who was wrongly accused of rape alongside her husband, then-Tory MP Neil Hamilton, in 2001, says: "The character and reputation of Michael Le Vell, an innocent man, has been hauled through the mud.
"He will never be able to throw off the nudge-nudge, wink-winks.
"It's outrageous that we should know who the accused is but not the accuser, who the jury obviously think is a serial liar."
Solicitor Nick Freeman agrees that even after someone has been cleared, there are always some left thinking "there's no smoke without fire".
In 2009, Mr Freeman defended another soap actor, who was accused of groping a model in a nightclub and trying to force his hand up her dress. A jury cleared him in less than seven minutes.
"It had a devastating effect on a charming young man whose career has taken a completely different path. It will remain with him for the rest of his years," he says.
He thinks anonymity should be granted to both defendant and complainant in cases of alleged sexual offences, but with the provision for an application to be made to a judge if the suspect is thought to be a serial offender or there is a hope other victims or witnesses might come forward.
In February, Maura McGowan, chairwoman of the Bar Council of England and Wales, which represents lawyers, suggested defendants should get anonymity unless convicted.
She said it was justified because sex offences carried "such a stigma".
Ms McGowan accepted there were arguments on both sides, as publicity in some cases could encourage other victims to come forward.
Mrs Hamilton agrees there should be anonymity for both parties, at least until the conclusion of a trial.
"Anybody who rapes someone deserves a rather unprintable penalty but I think the pendulum has swung too far. It's now far too easy for a woman to cry wolf," she says.
Stephen Cooper, who was wrongly accused of sexual offences 25 years ago and now runs website falselyaccused.co.uk, backs anonymity for defendants until the point of conviction.
The effects of being publicly named are "colossal", he says, adding that Mr Le Vell "lived two years of absolute hell" due to the publicity of his case.
"The minute someone switches on the television and sees him, they're going to make comments; comments have been made on Twitter and Facebook" he says.
'Failing victims'
Rape charity Women Against Rape says Mrs Hamilton is dealing in the myth that lots of women make up rape allegations.
Its spokeswoman, Alex Brew, points to comments from Keir Starmer, the director of public prosecutions, who said in March that it was a "misplaced belief" that false accusations of rape are commonplace.
She is firmly against granting anonymity to rape suspects, and says she has the police and all the mainstream political parties on her side.
It would, she argues, be the end of open justice and it is, in fact, the rape victim who is being failed by the justice system.
"The system is stacked up against them from the very start of the investigation and in court as well," she says.
While a growing number of rape victims are coming forward, she is concerned that investigations are being dropped and cases closed before all of the evidence has been gathered.
She also argues that giving only rape defendants anonymity marks rape out as being different from other crimes, when it is no more stigmatised than murder or terrorism.
But Mr Freeman disagrees with that point. "Murder does not carry the same degree of social revulsion and stigma as rape. When you hear about a murder, you feel sympathy, whereas you react to a child rape on an emotional plane and feel revulsion."
The Association of Chief Police Officers says the "welfare of rape victims needs to remain a priority".
A spokeswoman adds: "Our main concern would be in regard to the impact any changes on anonymity would have on victims, in particular on their confidence to come forward and report rape or abuse."
The arguments on both sides look set to go on for many years to come.