Libyan student 'facing life in prison for London protest'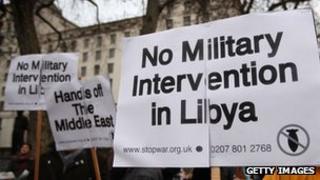 A Libyan who studied in the UK is facing life imprisonment in Libya for taking part in a pro-Gaddafi anti-war protest in London in 2011, Amnesty International has said.
Moad al-Hnesh will appear in the Zawiya Criminal Court in Libya on Wednesday charged with crimes against the state, according to the human rights group.
He is also charged with publishing false information about Libya, it said.
The 34-year-old engineer studied at Coventry University.
In addition to the life sentence for actions abroad deemed to be against the interests of the state, Mr al-Hnesh could also face a further 15 years in jail for "publicly insulting the Libyan people" after describing Libya's "revolutionaries" as "rats", Amnesty International added.
The campaign group called for the charges to be dropped.
Hassiba Hadj Sahraoui, its Middle East and North Africa deputy director, said: "That a young man could face life in prison for expressing political opinions deemed unacceptable by those in power, begs the question of whether Libya has changed since the Gaddafi era.
"Libya adopted a constitutional declaration that guarantees freedom of expression two years ago.
"But instead of repealing draconian legislation used by the former regime to imprison opponents of Gaddafi, the new authorities are abusing the very same laws to stifle dissent."
He urged the Libyan government urgently "to amend or repeal all laws arbitrarily restricting freedom of expression".
From 2010 until 2012, Mr al-Hnesh studied mechanical engineering on a Libyan government scholarship at Coventry.
He told Amnesty that he participated in a Stop the War Coalition demonstration outside the House of Commons in London during which he was photographed holding a photo of a purported victim of Nato bombing.
Following his return to Libya, he was arrested on 3 April 2012.
A group of Libyan students he had met at Coventry University reportedly lodged a complaint against him with the Zawiya Military Council.