British Social Attitudes Report finds softening attitudes to benefits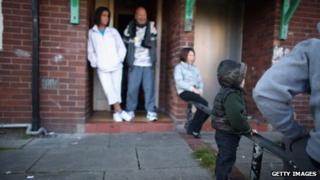 Attitudes to unemployment and to welfare payments have softened, a major survey of the public mood suggests.
The annual British Social Attitudes Report - which questioned more than 3,000 people for more than an hour - found 51% said benefits were too high in 2012, down from 62% in 2011.
The survey also showed a fall in support for Scottish independence, from 30% in 2006 to 23% in 2012.
About 60% said the Scottish Parliament should be running taxes and welfare.
The British Social Attitudes Report has been running for 30 years.
Benefits capped
According to the NatCen Social Research survey, sympathy for those without jobs has increased, while support for benefit cuts has fallen.
The number of people who agreed with the statement that benefits are "too high and discourage work" fell from a high of 62% in 2011.
And about half thought the unemployed could get a job if they really wanted one, down from two thirds in the boom years of the previous decade.
The coalition government identified reducing welfare spending as one of its most urgent priorities after the 2010 general election.
Benefits have been capped by Work and Pensions Secretary Iain Duncan Smith since then to a little less than £26,000 per year, per household.
But the proportion of people who believed that benefit cuts would damage too many people's lives rose to 47% in 2012, from 42% in 2011.
In February last year, Mr Duncan Smith claimed that "five million people are trapped on out-of-work benefits and almost two million children are growing up in workless households".
He has also strongly condemned those who appear to have manipulated the system to gain as many benefits as possible. But the survey suggests that British people no longer have as much sympathy with this view.
The proportion of people found to be supportive of extra spending on benefits rose to 34% in 2012, compared with 28% in 2011.
Other the key findings include:
For the first time in 30 years, more people said they were interested in politics than in the previous 12 months
Some 18% said they trusted the government to regularly place the country's needs above their own party's interests, compared with 38% in 1987
The reputation of the monarchy has been enhanced recently, with 45% believing it "very important" for it to remain, compared with 27% in 2006
The survey suggests that Britain has become significantly more tolerant of same-sex relationships, with 22% declaring them "always wrong", compared with 64% in 1987
Nine out of 10 people trusted banks when the survey began in 1983 - that has fallen to just two out of 10
Alison Park, head of society and social change at NatCen, told BBC Radio 4's Today programme that people had become more interested in politics over the survey's lifetime.
"Though they have gone off the parties and the politicians," she added.
She also said new generations had become more relaxed about sexuality and marriage than thirty years ago.
"There's been a really clear shift in a more sort of tolerant, live and let live direction," she said.
The report's authors wrote that their data indicated that "austerity and the experience of cuts to social security may be changing public attitudes towards a more sympathetic view of benefit claimants".
But Ms Park stressed it was clear the public was "very divided in their views".
"It remains to be seen what impact the coalition government's welfare reform agenda will have on public attitudes, and whether the small recent upturn in sympathy marks the beginning of a longer term trend," she said.
According to the report, the Department for Work and Pensions provided "financial support" to the researchers.
A department spokeswoman said there was "clear public support" for many of its benefit reforms.
"It is understandable that people's attitudes to welfare have changed over the last 15 years," she said.
"The system was allowed to develop to the point that benefits could provide a lifestyle out of reach from many hard-working families and for some the incentive to work was limited."