Al-Sweady inquiry: Ex-soldier denies shooting Iraqi bodies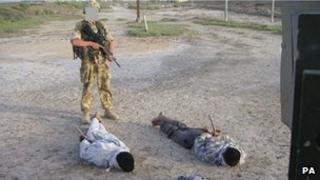 A former British sergeant has denied allegations that he shot the bodies of Iraqis who were barely alive but still "twitching" after a gun battle in 2004.
Former Sergeant Paul Kelly, who was awarded a Military Cross for gallantry in Iraq, said there was no truth in the claim, made by a former private.
Mr Kelly was testifying at the al-Sweady inquiry in central London.
The inquiry is examining claims, denied by the Ministry of Defence, that UK troops mistreated and killed detainees.
The allegations stem from a firefight during the Iraq war that took place on 14 May 2004, and became known as the "Battle of Danny Boy", which left a number of Iraqis dead.
Lawyers acting for the families of some of the dead claim they were taken alive to a nearby military base, Camp Abu Naji, and then unlawfully killed.
'No sign of abuse'
The British army denies this, saying that nine Iraqi men were taken captive and they all stayed alive.
Last week, former Private Duncan Aston told the inquiry that he had seen Mr Kelly fire his automatic weapon into the bodies of insurgents who may or may not have been alive in a ditch after the battle.
Appearing at the inquiry on Monday, Mr Kelly said it would have been cowardice to fire into the insurgents after the battle had ended.
But he said that two insurgents had been still standing, and that one turned towards him with an AK-47 assault rifle and began to aim.
The former sergeant said he then fired his rifle on automatic at the men, letting off a full magazine of 28 rounds.
He admitted that those rounds may have swept across the bodies lying in the ditch, and that if there were people alive he might have killed them, but that he could not be sure if that had been the case.
Mr Kelly said there was no truth in the allegations made by Mr Aston last week, adding that he had seen no sign of abuse of detainees.
'Sick and degrading'
In his testimony to the inquiry, Mr Aston said he had been collecting weapons from dead Iraqis when he noticed two were "twitching".
They appeared to be "somewhere between life and death" but looked beyond the help of medical attention, he said.
He said he then saw Mr Kelly, his platoon sergeant, approach "looking very angry".
His sergeant had tried to fire at one of the men but his weapon did not work and "he then threw his rifle to the ground and said words to the effect of 'give me your weapon'", Mr Aston added.
"He put a full magazine of bullets into both bodies that had been twitching but he also fired into the bodies of the other dead gunmen in the ditch," he said.
"The bodies of the two twitching gunmen stopped twitching - there was no other reaction from the bodies.
"They did not make any other noise, they just stopped twitching."
Twenty-eight-year-old Mr Aston - who was 18 at the time - said his sergeant had then given him his gun back and they did not mention the incident again.
Mr Aston said he had believed the Iraqis who had been shot had been "certainly going to die" and he therefore thought "what he had done was a bit sick and degrading but not something worse".