Viewpoints: Are zero-hours contracts exploitative?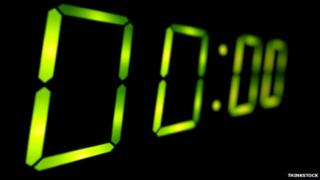 Labour leader Ed Miliband is expected to put forward plans to outlaw the exploitative use of zero-hour contracts.
Hundreds of thousands of workers - the Unite union estimates up to 5.5 million - are on the contracts, which allow employers to hire staff with no guarantee of work.
They mean employees only work as and when they are needed by employers, often at short notice, and are only paid for the hours they work.
Critics say this leaves workers with little stability or security, and open to exploitation. But the contracts also allow businesses the flexibility to respond to fluctuations in their workflow.
Below is a selection of viewpoints on the issue.
Kevin Green, chief executive of the Recruitment and Employment Confederation
There is nothing inherently wrong with zero-hours contracts and any suggestion to ban them is nonsensical.
Case studies from a number of leading employers show that zero-hours contracts can work for both employers and staff, and introducing further regulation could damage the successful jobs market.
[Monday's] Report on Jobs data shows that temporary and permanent pay rates continue to improve and Labour and the TUC should focus on supporting businesses as the economy begins to recover.
The recruitment industry focus is to get people into jobs and the last thing we need is more regulation, which adds cost and complexity, when we already have so much protection for workers.
In some instances, as with all forms of employment, workers may be poorly managed.
Rather than regulation we would like to see a voluntary code of good practice for zero-hours contracts.
This code would show how zero-hours contracts can be managed and educate organisations, in both the public and private sector, to ensure that workers have absolute clarity around what they mean and how they should operate.
Len McCluskey, general secretary of Unite
Zero-hours contracts create a throwaway workforce.
They form a one-way street, whereby employers bear no risk, avoiding sickness and holiday pay and overtime.
Unite has undertaken the biggest survey of insecure workers of recent times.
Some 5,000 people from right across the economy contacted us because they want a better deal at work.
Very few said that they "enjoyed" the flexibility.
The vast majority said that they wanted decent, secure employment.
We estimate that some 5.5 million people are now on zero-hours contracts.
That's astonishing. One in five workers in this country have no idea what days they will work or even if they will work from week to week.
They told us that this causes problems renting a home or getting a mobile phone.
As for a mortgage, forget about that. Zero-hours are particularly prevalent among young workers - most times it is the only work they're offered.
This should worry us all. We cannot build a confident, thriving nation if we allow millions to be treated as disposable workers.
[Chancellor] George Osborne proclaims a recovery - but for whom? Not those on insecure contracts taking home £500 per month.
Government bears serious responsibility for the spread of these contracts and the damage they do.
Cuts and contracting have accelerated the spread of zero-hours across the public sector.
Employment tribunal fees of £1,300 mean there is no way a worker on poverty pay can ever pursue better treatment.
Zero-hours are not a rarity. They are not a help up the employment ladder, but are a trap of low wages, anxiety and utter uncertainty. Britain's workers deserve better than this.
Kurt Janson, policy director of the Tourism Alliance
Tourism is one of the largest industries in the UK, providing employment for 2.72 million people. But most importantly, it is the industry that's leading the UK's economic recovery.
Of the 155,000 additional jobs created during 2011, according to the Office for National Statistics (ONS), tourism accounted for 120,000 of them - and this was before the tourism boost generated by the Olympics.
One of the reasons that the tourism industry is able to provide this level of benefit is because the UK has a flexible labour market, including zero-hour contracts.
Everyone knows that tourism is highly weather-dependent and that customers are increasingly booking at the last minute.
Zero-hours contracts help businesses respond quickly and efficiently to constantly changing levels of demand.
This benefits customers by ensuring high levels of customer service regardless of the level of demand and keeping prices as low as possible by not having customers pay for service that they don't need.
Zero-hours contracts can also benefit the many people looking for part-time work to supplement their household income.
Used wisely, they provide a win-win outcome for all parties.
Vidhya Alakeson, deputy chief executive of Resolution Foundation
Our research has shown that, for a minority of employees, zero-hours contracts do provide flexibility which employees value, for example students balancing studying and part-time employment.
They have also clearly kept people in employment during the downturn by allowing employers to respond to changes in demand, which has been positive in many respects.
However, the flexibility they offer employers comes at the expense of security for employees, which can be very difficult to manage, particularly for those with families.
Meeting everyday costs such as rent and bills becomes difficult with the constant threat of a loss of income due to a change in hours.
Given the fact that zero-hours contracts are not always unwelcome, we would not support an outright ban but look to measures that mitigate some of the worst practices that have a particularly negative impact on employees.
For example, there are instances where zero-hours contracts are used as a management tool, with hours offered or taken away according to whether or not employees toe the line.
This type of practice should not be permitted. Similarly, employers should not be able to remove hours from employees to avoid formal redundancy - a practice known as "zeroing down".
Alexander Ehmann, of the Institute of Directors (IoD)
Zero-hours contracts provide flexibility to employers who face unknown levels of demand and fluctuating workloads.
One IoD member, running a market research call centre, explained that he wasn't able to guarantee work until contracts were won and field work needed conducting.
Zero-hours contracts helped him to have a workforce ready to act when the work came in - a personal uncertainty he has to manage every day too.
IoD research shows that the vast majority of companies are using these contracts for less than 10% of their workforce and that they are typically confined to seasonal sectors or ones with variable demand like hospitality and home care.
The relatively controlled levels of unemployment in the UK have been helped by this versatile contract type, which allows work to be offered where it exists keeping people in the workforce and their skills and expertise up to date.
Those that argue for curbing these contracts need to acknowledge that the alternative won't be universally improved contracts with harder commitments to more hours of employment.
Rather, employers who cannot commit to more substantive terms will be forced to reduce the employment opportunities they have; meaning some employees would be substituting variable employment for none at all.
Natalie Bennett, leader of the Green Party
The Green Party is calling for the banning of zero-hours contracts.
Workers need jobs they can build a life on, which ensure that they can afford to pay for their home, their food, their travel, heating and other essential living costs.
Zero-hours contracts, which leave workers in total uncertainty about each week's income, at the mercy of supervisors' whims and fancies, are the absolute opposite of that.
We know that these are increasingly being used by large, often multinational, companies, which could well afford to provide regular pay and conditions for their staff. Indeed many of them did until very recently.
They are spreading too, throughout the economy - into the health professions, in accountancy and IT, in higher education. They are a disease that must be stopped.
Defenders of zero-hours claim that businesses need the flexibility, yet businesses across much of continental Europe, including in economic success-story Germany - manage without zero-hours contracts.
And if we're to have a society that can afford to buy the products we produce, we have to pay workers decently and securely.
I'd urge every shopper to consider the list of companies that use zero-hours contracts, and consider whether they want to give their cash to them.
Simon Renton, president of the University and College Union
Flexibility is the rationale given to justify the growing numbers of zero-hours contracts in our colleges and universities.
However, flexibility for a few is no defence against the exploitation of many other workers who do not know how much money they will have coming in on a monthly, or even weekly basis.
We released a report last week that revealed that 61% of colleges and over half of universities use zero-hours contracts to employ lecturers.
Our findings helped shine a light on the murky world of casualisation and just how haphazard the use of these contracts is.
Despite the large numbers of colleges and universities using zero-hours contracts, only a handful of institutions said they had policies on them.
Interestingly, the university identified with the largest number of zero-hours contracts in our findings, Edinburgh, has since announced it is going to phase them out, which shows the problem can be resolved.
It is encouraging that the Labour Party is now taking the issue of zero-hours contracts seriously.
We would like a commitment from Ed Miliband that he would legislate to outlaw the kind of exploitation too many people are at risk of, and not simply implement a voluntary code.
As well as zero-hours contracts there are other elements of casualisation that have a debilitating effect on job security.
While Labour should be applauded for its stance, it is time politicians of all stripes act to protect the most vulnerable workers in our society.
John Allan, national chairman of the Federation of Small Businesses (FSB)
We recently surveyed 1,700 small firms and found that only 8% have staff on zero-hours contracts.
Given that, this makes them less likely to employ people in this way than larger firms, the voluntary sector or the public sector.
The FSB suggests small firms using these contracts are operating on fine margins and are typically in industries where peaks and troughs in demand are common.
It is not only business that can benefit from zero-hours contracts.
They can work well for certain types of workers, such as students, working parents looking for occasional work, or people who work part-time and are self-employed.
For this reason we are pleased that the government has ruled out banning zero-hour contracts and we would caution against the assumption that most workers on these contracts are doing so involuntarily.
We are also supportive of the government's decision to review the use of these contracts as there may be situations where they are not suitable for the employees or even the business.
The best way to achieve a fair and competitive labour market is to enact a long-term enterprise policy which supports business growth and helps create more permanent, stable and better-paying jobs.