Newspaper review: Analysis of Osborne claims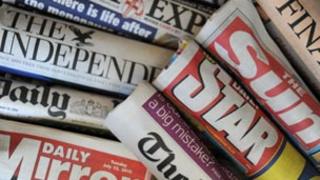 Monday's newspapers analyse Chancellor George Osborne's claim - to be made in a speech later - that the UK is economy is "turning a corner".
The Daily Telegraph says Mr Osborne will claim to have "saved the economy", with an address that will mark a shift in coalition rhetoric.
It says there is a growing belief among senior government figures that the mood of the nation has taken a decisive turn for the better, and that it could provide an electoral boost for the coalition - and for the Conservatives in particular.
The Daily Mail focuses on Mr Osborne's line that supporters of the so-called Plan B have lost the argument, and it lists "doom-mongers" who it says got it wrong, including not only Labour's Ed Balls but also journalists and leading economists.
Several papers say Mr Osborne himself is one of the chief beneficiaries of the good economic news.
'Complacent and boastful'
The Financial Times says it helps him consolidate his stewardship of Britain's finances ahead of the party conferences.
The Daily Express says his star is rising, and he is widely seen as Prime Minister David Cameron's successor.
But the Sun has doubts about his assertions. It praises the chancellor for sticking to his policy guns but it says the good news is "just numbers" and that "people don't feel better off".
The Daily Mirror calls him "complacent" and "boastful".
Graphic videos
The Telegraph says a poll of Conservative MPs suggests Mr Cameron could win a second Commons vote on Syria, if it were to be called.
It says more than half of the Tories who failed to vote the first time either now back the prime minister, or are open to persuasion.
The Independent looks to the United States, where it says President Obama is "redoubling" his efforts to persuade a sceptical Congress to back military strikes.
The Times says graphic videos of victims of a chemical attack are being released to try to sway public opinion.
'Burned contact'
Former Liberal Democrat MP Chris Huhne uses an article in the Guardian to criticise what he calls "new media aggression", saying it is having a corrosive effect on how the public view politicians.
Mr Huhne had to step down in disgrace after pleading guilty to getting his then wife Vicky Pryce to accept speeding points for him.
He says she was "groomed" by the Murdoch press and then abandoned as just another "burned contact", and he calls for more diverse media ownership.
A weekend of Olympic decisions is chewed over, with some disappointment.
The Financial Times says the choice of Tokyo for the 2020 Games was cautious, safe and solid, while the Independent says financial security played a key role in the decision.
'Big Daddy and belly-flops'
Times columnist Simon Barnes says he would have liked to have seen the impact an Istanbul Olympics would have had on tensions between Turkish Islamists and secularists.
"Without getting too gooey about it," he says, "the Olympic Games cannot help but make us understand the world better, and understanding is blood-brother to tolerance."
The Guardian raises its eyebrows that wrestling - a sport which "still tends to conjure images of Big Daddy and belly-flops" in Britain - returned to the Olympics just months after being scrapped.
It says the process of choosing a "new" sport has been bafflingly bureaucratic, and warns it is not over yet.
It says a new International Olympic Committee president might well expand the Games, opening the door again for both squash and baseball.