Syria crisis: Britain calls for more international aid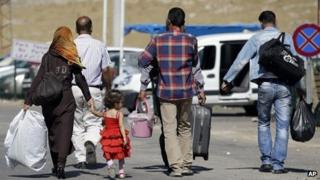 Countries opposed to military action should do more to tackle Syria's humanitarian crisis, the international development secretary has said.
Justine Greening told the BBC the response so far had been inadequate and action needed to be taken now.
Britain has said this week's G20 summit agreed to increase humanitarian aid and medical assistance for Syria.
The US and Russia have failed to reach agreement on how to respond to Syria's alleged use of chemical weapons.
The US accuses President Bashar al-Assad's forces of killing 1,429 people in a poison gas attack on 21 August.
President Barack Obama has returned from the summit to the US where he will try to persuade Congress to authorise military intervention, and seek public support in a White House address on Tuesday.
Mr Assad - and his ally President Vladimir Putin of Russia - blame rebels for the attack.
Both Russia and China have refused to agree to a UN Security Council resolution against Syria, saying action without UN approval would be illegal.
Aid shortfall
Ms Greening told BBC Radio 4's Today programme: "Maybe the countries that do not favour military strikes need to now ask themselves whether they can contribute more to the humanitarian effort. That does not need to wait.
"The UK, alongside other G20 countries, announced additional funding for the humanitarian crisis. I hope we'll be joined in the coming days by many, many more countries."
Prime Minister David Cameron has committed a further £52m in UK aid for victims of the civil war in Syria, taking Britain's total spending for the country to £400m.
Speaking at the G20 summit in St Petersburg, Mr Cameron urged fellow leaders to dig deep to fund a £1.9bn shortfall in the United Nations' appeal.
The international development secretary said there were more than two million refugees as a result of the crisis, one million of them children, and up five million people displaced internally in Syria.
In a Commons vote MPs rejected possible UK military action against the Assad regime with the government losing the motion by 13 votes.
Ms Greening has "apologised profusely" for missing the crucial vote, despite being in Parliament at the time.
She and fellow senior minister Mark Simmonds were having a meeting elsewhere in the building and said the bell alerting MPs to votes taking place did not ring.
But she told the BBC she would not want to see another parliamentary vote on the matter.
She said: "I think we've been very clear as a government. We had the debate in Parliament, there was a very clear outcome to that, the prime minister and the government respects that."
Meanwhile, EU foreign policy chief Baroness Catherine Ashton issued a joint statement at a meeting of ministers in Lithuania saying the use of chemical weapons could not go unpunished.
She said: "A large-scale chemical attack was perpetrated on the outskirts of Damascus killing hundreds of people including many women and children.
"That attack constituted a blatant violation of international law, a war crime and a crime against humanity. We were unanimous in condemning in the strongest terms this horrific attack."