Prisons charity calls for safe sex promotion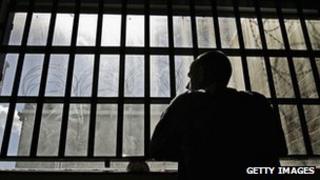 Prisons in England and Wales should do more to promote safe sex behind bars, the first ever review of sex in prisons has said.
The Howard League for Penal Reform said prisons' attempts to control sexual activity undermined health concerns.
The charity warned that the male prison population was a "high risk group" for sexually transmitted diseases.
Chief Executive Frances Crook said: "We have to be realistic and grown up about this - it is a public health issue."
The review, Consensual sex among men in prison, was undertaken by the Howard League's Commission on Sex in Prison - a group of academics, former prison governors and health experts.
Condoms refused
Ms Crook said it was a "fact-finding exercise" which she hoped would prompt "sensible talks".
The commission said it found evidence that some prisons were failing to respond to prisoners' health concerns.
It heard that one prisoner, who was HIV positive, requested condoms but was refused.
Other prisoners, some of whom did not want prison officers to know that they were having sex, told the commission they were often unable to obtain condoms in confidence.
The Terrence Higgins Trust, the largest voluntary sector provider of HIV and sexual health services in the UK, told the commission it was irresponsible and unethical to ignore prisoners' request for condoms.
Disciplinary action
There is no specific prison rule banning sex between inmates. However, if people are caught in the act, particularly in a public or semi-public place, they can face disciplinary action.
While it was clear that some male prisoners were having sex, the commission said there was very little reliable evidence available on both consensual and coercive sexual activity in prisons.
"It is not known to what extent men and women who identify as heterosexual may have sex with other prisoners while in prison," the commission said.
It pointed to a Home Office study conducted in 1994-95, which indicated that between 1.6% and 3.4% of a random sample of 1,009 adult male prisoners reported having had sex with another man while in prison, adding that "little use was made of condoms".
Consensual or coercive?
Prison governors told the commission that it was difficult, if not impossible, for staff to be able to distinguish between consensual and coercive sex between inmates.
They said that prisoners suspected of being in a sexual relationship were separated.
Chris Sheffield, chair of the commission, said: "Prisons need to ensure that they protect the vulnerable.
"The prison population is a high-risk group for sexually transmitted infections and risk-taking sexual behaviour.
"The need for harm reduction measures and the delivery of sexual health policies are important not just for prisoners but wider society."