UK increases use of armed drones in Afghanistan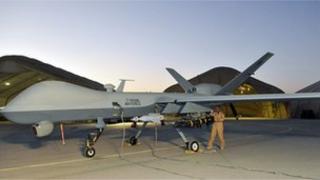 The proportion of UK drones using missiles in Afghanistan has doubled in the last five years, official figures show.
In 2012, 10% of drone missions released weapons, compared to 5% in 2008.
The number of drone missions has also increased from 296 five years ago, to 892 last year.
Defence minister Andrew Robathan said the majority carry out intelligence, surveillance, target acquisition and reconnaissance (ISTAR) roles.
In a written parliamentary answer to the Green MP Caroline Lucas, Mr Robathan said the Ministry of Defence does not keep track of the amount of time drones spend flying over civilian communities.
However, he added: "UK policy is that, as far is operationally possible UAS [unmanned aircraft systems] should not fly over built up areas."
"We have no reason to believe the presence of any type of aircraft in Afghanistan has had any psychological impact on the civilian population".
'Vital role'
The UK government does not provide data on civilian casualties.
In a previous parliamentary exchange, Mr Robathan told the Labour MP Tom Watson that while the government "deeply regret" all civilian casualties, "it does not record total figures for civilian casualties in Afghanistan because of the immense difficulty and risks that would be involved in collecting robust data".
Of the five types of drone used by UK forces in Afghanistan, Mr Robathan said the Reaper drone was the only armed system in operation.
An RAF spokesman said the Reaper has "played a vital role supporting military operations" in Afghanistan.
"It has saved countless UK and allied forces lives by providing essential intelligence, surveillance and reconnaissance and precision weapons in support of coalition forces on group operations," he added.
First brought into service in 2007, the Reaper operates under the legal authority of UN Security Council resolutions and within the consent of the Afghan government.
Mr Robathan said the official figures showed "the majority of flights are also wholly in the ISTAR role, with only a small proportion resulting in one or more weapons being fired".