David Cameron pledges additional £52m in aid for Syria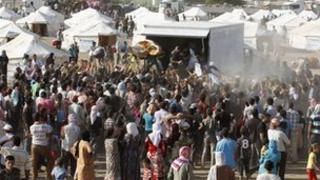 Prime Minister David Cameron has committed a further £52m in UK aid for victims of the civil war in Syria.
The extra money will take the UK's total spending on aid for Syria and neighbouring states to £400m.
The Foreign Office said it is the UK's largest ever response to a humanitarian crisis.
Speaking at the G20 summit in St Petersburg, Mr Cameron urged fellow leaders to dig deep to fund a £1.9bn shortfall in the United Nations appeal.
He reminded leaders that the UN relief appeal for Syria is so far only 43% funded.
Mr Cameron said the UK's pledge of further aid money was "a very large message" of support for the people of Syria.
The UK says its aid is providing support including food, medical care and relief items for people in Syria and to refugees in Lebanon, Jordan, Turkey and Iraq.
Much of the extra money will go towards medical training and equipment to help those targeted by chemical attacks.
Ahead of the summit, the prime minister said the rejection by MPs of UK military action in Syria by did not mean "we do nothing" to help those affected by the two-year civil war.
'Moral imperative'
According to the UN's refugee agency, UNHCR, 6.8m people are in need of humanitarian assistance in Syria.
The civil war has forced 10% of Syria's pre-war population - or two million people - to flee Syria. Half of them are children, according to the UN.
Within Syria, more than four million people have been displaced by the fighting, which has killed more than 100,000 people.
"This is a moral imperative," Mr Cameron told the meeting, attended by ministers from Canada, Japan, Australia, Saudi Arabia and Turkey and a senior official in the Obama administration, as well as UN Secretary General Ban Ki-moon and the EU's Jose Manuel Barroso and Herman van Rompuy.
He added: "This is the big refugee crisis of our time. As the Secretary General has made clear, seven million people are in dire need and chemical weapons attacks have made this even more acute.
"A Syrian becomes a refugee every 15 seconds while we sit here at this conference. That is 5,000 fleeing their homes and becoming homeless while we are at this G20 summit."