First female genital mutilation prosecution 'close', says CPS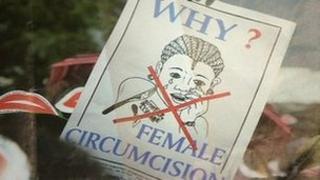 The likelihood of the first prosecution in the UK for female genital mutilation is higher than ever before, the director of public prosecutions says.
The Crown Prosecution Service was now considering whether to bring charges in five cases.
While there have been 100 convictions in France, there has not been a successful UK prosecution since criminalisation 28 years ago.
But a new strategy was helping to track down those responsible, the DPP said.
Mr Starmer said that very few victims of the crime come forward, and those that do are often "very unwilling" to give evidence.
It was estimated in 2007 to have affected 66,000 women in England and Wales.
In the past 12 months, police have pursued a number of leads using a new "intelligence-led" approach, without success.
But Mr Starmer said: "I think a prosecution is much closer now than it's been at any stage since this was made a criminal offence in this country.
The Crown Prosecution Service is currently reviewing original decisions not to bring charges in four female genital mutilation cases and is also considering whether there is enough evidence to prosecute in another, more recent, case.
Mr Starmer added: "I think it is wrong to say we've failed when we've looked at the problem.
"We have devised a strategy, and we have now got the intelligence-led operations that are bringing us very close to a prosecution.
"I do not think that's a failure - that is trying to grapple with a difficult problem. If it was easy there would have been a prosecution."