Al-Hilli murder: Police believe killer was experienced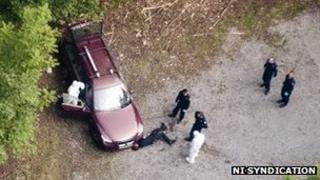 Police in France say they believe whoever shot dead three members of a British family in the Alps one year ago may have been an experienced gunman who had killed before.
They were speaking at a joint news conference with British police giving an update on the unsolved murders.
Saad al-Hilli and his wife Iqbal, from Claygate, her mother Suhaila al-Allaf and French cyclist Sylvain Mollier were shot on 5 September 2012.
They were on holiday by Lake Annecy.
The bodies of the four victims were found on a remote forest road in Chevaline.
Mr and Mrs al-Hilli's daughters survived the shooting.
Recorded phone calls
Mr al-Hilli's brother Zaid, who is from Chessington, Surrey, is due to answer police bail next month after he was arrested on suspicion of conspiracy to murder amid claims he doctored documents to ensure he inherited the family estate following the death of their father.
He has always denied any involvement in the killings.
But police told journalists they believe their chief line of inquiry remains a row over the inheritance.
"This is being followed up actively," said Annecy prosecutor Eric Maillaud.
According to the AFP news agency, Mr Malliaud said the two brothers "initially worked together to regain their father's property" in Iraq but that differences soon emerged.
Police said the murdered man had taken lots of information relating to the inheritance with him on holiday.
He also recorded his telephone calls, the prosecutor said, giving investigators an "insight into his personality and that of his brother and other family members".
BBC correspondent Imogen Foulkes said police are "saying Zaid... is not the number one suspect.
"Nevertheless, this dispute over the inheritance within the family is the line of inquiry investigators are pursuing".
Police were now "pretty sure" there was no connection with the murdered cyclist, our correspondent added.
And she said they had not found any evidence either to support the "lone psychopath" theory.
Since the inquiry started British police have taken 60 statements, seized 5,500 documents and 1,600 exhibits, Surrey Police said, travelling to France several times in the course of their investigation.
Detective superintendent Nick May said: "There is a tremendous amount of work that needs to be done... several audios to be digested.
"There are other lines of enquiry," AFP said he told journalists.