Pub delivery workers to strike at Kuehne and Nagel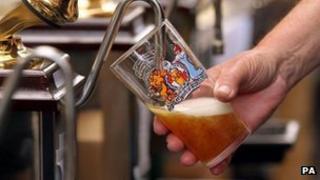 Workers who deliver drinks to pubs and other establishments across the UK are to strike over jobs and conditions.
Unite union members at Kuehne and Nagel Drinks Logistics (KNDL) will walk out for 24 hours from 10:00 BST next Wednesday, followed by an overtime ban.
KNDL said it needed to review its warehouse and transport networks to provide a more efficient service, and had strike contingency plans in place.
Unite said almost 30,000 establishments would face "significant disruption".
These include pubs linked to Enterprise Inns, Trust Inns, Wetherspoons and Wells and Young's.
'Serious consequences'
Places such as airports, railway stations, some Premier League football clubs and government buildings including the Houses of Parliament would also be affected, the union added.
The action is set to hit deliveries of Foster's, Heineken and Kronenbourg lagers, John Smith's bitter, Strongbow cider and Britvic soft drinks.
The union said it balloted 970 employees of Kuehne and Nagel, with 85% voting in favour of strike action on a turnout of 64%.
Unite claims that national agreements on terms and conditions are being ignored, bringing the prospect of "significant" job losses.
Unite national officer Rhys McCarthy said: "KNDL's refusal to take our concerns seriously means there will be significant disruption to the supply of beer right across the country.
"Whether it's the Houses of Parliament, Manchester City Football Club or your local Wetherspoons pub, there will be serious consequences.
"We have tried to negotiate with the company but it has stubbornly refused to solve this dispute.
"Our members are proud of their jobs and they know that the present system for delivering beer works and customers are happy."
'Declining market'
KNDL said it was it was hoping to resolve the dispute before any action took place.
A spokeswoman said: "Kuehne and Nagel continually reviews its warehousing and transport networks in order to ensure that the company provides the most efficient service to its customers.
"KN Drinks Logistics has been consulting with its employees for a number of years regarding the need to adapt its business model and enhance its service offering to meet the challenges of the declining 'on-trade' drinks market.
"We have engaged in lengthy consultation with Unite regarding the proposed changes to our secondary distribution network.
"In our meeting with Unite on the 29th August and in subsequent discussions with the union, the company reiterated its desire to engage in meaningful dialogue including suggesting the involvement of Acas in an effort to resolve this dispute.
"We are therefore extremely disappointed that the notice of industrial action has been issued prior to further discussions taking place.
"We are currently working closely with our customers and, in the event of strike action, we have contingency plans in place and will seek to minimise disruption to our nationwide deliveries.
"We remain committed to resolving this dispute prior to any action being taken and will be seeking to meet again with Unite in an effort to achieve this."