Newspaper review: Sombre mood detected ahead of G20 Syria talks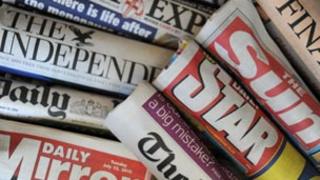 The sombre mood ahead of a possible military attack on Syria is evoked in several papers with carefully chosen portraits of President Obama.
Mr Obama appears earnest, concerned and unblinkingly resolute on the front page of the Times, while in the Daily Mirror he seems to be grimacing with distaste.
The Independent suggests that the G20 meeting in Saint Petersburg - and the President's encounter with Vladimir Putin - could prove to be "one of the most awkward and uncomfortable international summits in recent memory".
According to the Guardian, Russian officials have redrawn the seating plan to keep some physical distance between Mr Assad's accuser, Mr Obama, and the Syria-supporting President Putin.
The Daily Telegraph says Russia may not be willing to sanction an armed intervention - but Mr Obama should still try to persuade them they should use their influence with the Syrian regime to end the violence.
The Times says Vladimir Putin is the "one person outside Syria who might have stopped this war". Now the G20 summit offers "a chance to do some good - if only he would take it", it adds.
The Daily Express too voices a longing for peace - not least because the other possibilities are so disturbing. In the end, it says, this crisis "is certainly not worth risking a third world war over".
Labour crisis
After his disagreements with the unions and ahead of his appearance at next week's TUC conference, Labour leader Ed Miliband, is in the worst crisis since he became leader, according to the Daily Mirror.
The paper fears that he has landed Labour "in a potentially fatal financial mess".
It says Mr Cameron will be laughing all the way to the bank as Labour and the unions head for the divorce courts.
The Sun addresses the news that the GMB union is to cut the affiliation funds it gives Labour with the comment: "You have to wonder whether Mr Miliband had any idea what he was getting into."
Universal criticism
Coverage of the National Audit Office's verdict on changes to the welfare system will make discouraging reading for ministers.
The Guardian says their flagship programme has been poorly managed and is riddled with major IT problems.
The Daily Telegraph concludes that the spending watchdog has given the Universal Credit reform a mauling.
Perfection
"Is this really the perfect face?" the Sun asks, in a classic question-to-which-the-answer-is-no headline.
Plastic surgeons, cosmetic dentists, and beauticians taking part in a survey have listed the features in female celebrities that their clients most admire, and the paper has enterprisingly combined their answers in a composite image.
It features the hair of Anne Hathaway, the cheekbones of Jennifer Lopez, the jaw of Jennifer Garner, the nose of Natalie Portman, the smile of Julia Roberts, and the eyelashes of Kim Kardashian.