Nato general John Lorimer says Afghan forces effective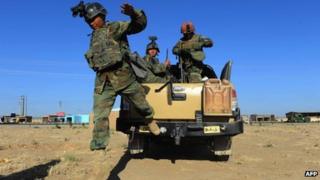 The top British commander in Afghanistan says the country's own military is proving to be an "effective force" despite rising casualties.
Lt Gen John Lorimer told the BBC that Afghan troops had demonstrated "resilience" in the face of Taliban attacks and were taking on insurgents.
Nato troops are handing over security responsibility to local forces before a withdrawal from Afghanistan next year.
Taliban attacks have left scores of civilians dead in the past week.
"When you are fighting a ruthless enemy inevitably you are going to take some casualties," said Gen Lorimer, Nato's second-in-command in Afghanistan.
In an interview with the BBC's Karen Allen in Kabul, he described the Afghan military as "well trained".
"They're developing leaders," the general added. "They are going on the front foot, taking the fight to the insurgents."
Winding down
Afghan police admit a doubling in the numbers of police officers killed in the last six months, compared with the year before.
Our correspondent says the assessment will be seen as a vote of confidence in the Afghan security forces, which are now leading combat operations ahead of Nato's withdrawal.
Afghanistan is mid-way through what traditionally has been the fighting season.
Just under 8,000 British troops remain in Afghanistan alongside US and other Nato forces.
Foreign combat troops are to return home by the end of 2014.
But the scale and scope of a residual force - required to train Afghan troops in years to come - is still being negotiated.