Police: A&E 'better' than cells for mentally unwell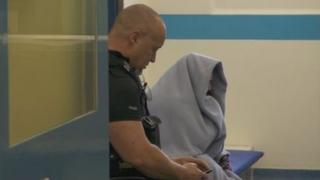 Police stations "should stop being used" as places to detain mentally ill people, according to one of Britain's most senior police officers.
Ch Supt Irene Curtis says A&E would be a "better place" when mental health units are unable to take them.
Care minister Norman Lamb has described the standard of some crisis care as a "national scandal."
The Association of Chief Police Officers says dealing with mentally ill people takes up a fifth of police time.
Police can detain people where no crime has been committed but they suspect the person is mentally unwell. The temporary police power is called a section 136.
During 2011-12, 9,000 people were detained in police custody under section 136.
Police say that is just a fraction of the number of mentally unwell people they have to deal with. About a fifth of all police time is now spent dealing with the mentally unwell, according to the Association of Chief Police Officers.
Irene Curtis, President of the Police Superintendents' Association of England and Wales, said mentally ill people should instead be taken to hospital when mental health services were unable to take them.
"I think as long as there is an option to have a police station cell as a back-up then they will always be used and I think until you get to the stage where you actually say no, enough is enough, then police station cells should stop being used per se.
"If there are no spaces at the mental health unit, then my belief is that an accident or emergency unit at a local hospital must be a better place than a police station."
Care minister Norman Lamb said a closer working relationship between the police and mental health services was needed.
"It shouldn't be about police just saying we're just going to take them, march them into an A&E department and abdicate our responsibility. That's not the right way.
"It should be police together with mental health, reaching a conclusion about what is in that patient's best interests."
He also said: "Some of the care that is received by people in a moment of crisis in mental health is frankly unacceptable. It's a national scandal."
Freedom of Information requests by BBC Panorama to 52 mental health trusts in England suggest that the number of adult acute beds available in mental health units fell by 17% between 2008 and 2013.
However, one trust Panorama spoke to said that bed numbers were not the best indicator of the quality of care provided, and the majority of people with even acute mental illnesses could be treated at home.
This figure is based on data from 27 trusts and excludes trusts which have merged, taken on additional services or provided incomplete data.
Panorama: 'Locked up for being ill?' will be broadcast on BBC One on Monday 9 September at 20:30 BST and then available in the UK on the BBC iPlayer.